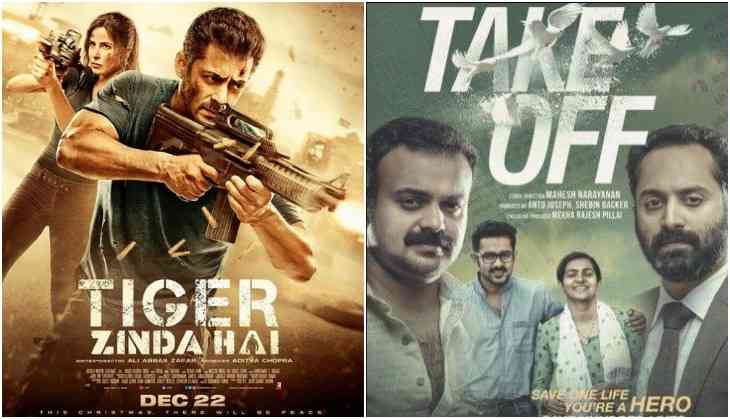 'Take Off' remake shelved because of Salman Khan's Tiger Zinda Hai? Here are the details
Indian cinema witnessed a blockbuster this year when SS Rajamouli's Baahubali 2 smashed all the box office records. Well, it was a Telugu film but it collected a great box office collection in Hindi as well. Following the grand level success of Baahubali, people started wondering whether Hindi filmmakers or superstars will be able to make such a film or not.
Who could give the best reply to all such queries other than Bhaijaan Salman Khan. On Christmas, the Ek Tha Tiger actor is coming with the most anticipated film of his career, Tiger Zinda Hai, a sequel to his previous blockbuster film Ek Tha Tiger.
Now the film Tiger Zinda Hai already has broken the record of India's biggest blockbuster film Baahubali 2. Actually, the trailer of Salman Khan and Katrina Kaif starrer film released on 7th November and the reaction the trailer has got is surely appreciable.
While a section of society has lauded the trailer, some others have slammed it. Now what we have seen in the recent past is that the film is facing a lot of criticism for the allegations on copying the concept. Well, it is not the first time when the Bollywood filmmakers have copied the concept or remade the South films. Let me tell you that since the trailer of Tiger Zinda Hai has come out, the critics have started criticizing the makers for copying the concept of the film from Malayalam film Take Off.
The result has come out as now the makers of Take Off have decided to shelve the Hindi remake of the film. While on the other hand, the Yashraj Films production house already has cleared that there is no resemblance of Take Off in Tiger Zinda and it is just a concept.
One source related to the production house has also claimed that many other films also have been made on the same concept but with the different stories and how someone can copyright an real incident.
Well, many are saying that Take Off makers know that when Salman Khan has already made a film on this subject then the Hindi audience will not like their film and that's why they have turn down the Hindi remake of the film.