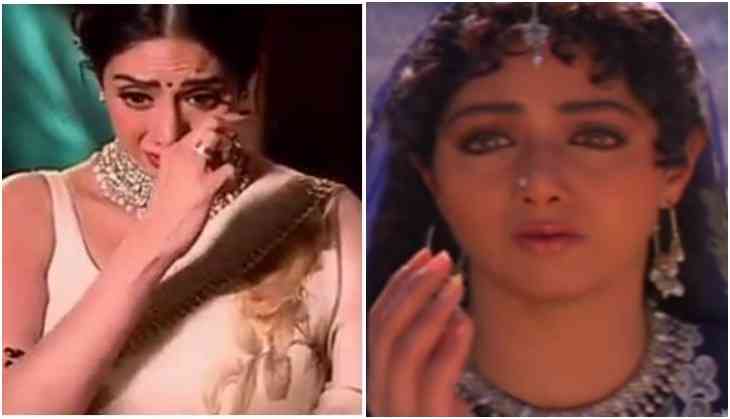 Sridevi passed away: Tu Na Jaa Mere Baadshah to Aye Zindagi Gale Lagaa Le; 7 songs that will bring tears in your eyes
Bollywood legendary actress Sridevi passed away on 25th February around 3 AM and that was quite for the whole Bollywood industry. The film industry is saddened by this news of losing the finest actress of Indian cinema. She was not just a Bollywood actress, she was actually the legendary Indian cinema actress.
The veteran actress has given many hit songs and there were item numbers that won many hearts. Even her biggest fan Ram Gopal Varma has said that she was not a human actually she was the great creation of God. Here we have brought you seven songs of the actress that will make you cry on her death today on 25th February 2018.
2. Navrai Majhi (English Vinglish) - English Vinglish was Sridevi's comeback and it was very surprising for fans to see the legendary actress in that avatar. In this film, there was a song celebrating the wedding in which Sridevi just nailed it by enjoying a like a normal housewife.
Also Read - Sridevi passes away; Here's why the Nagina actress didn't talk to Boney Kapoor for three months
3. Yeh Lamhe Yeh Pal (Lamhe) - It was the time when Sridevi worked with filmmaker Yash Chopra known for making romantic films. This song with his brother-in-law Anil Kapoor made everyone sad.
4. Aye Zindagi Gale Lagaa Le (Sadmaa) - Now this song is like having the conversation with life, but on her death day this song becomes meaningful.
Also Read - Sridevi Passed away; co-star Amitabh Bachchan already had an intuition
5. Har Kisi Ko Nahi Milta Yahan Pyaar (Janbaaz) - This song shows the love story of Sridevi in real life too, how it was difficult for the actress.
6. Mujhe Ek Pal Chain Na Aaye (Judaai) - This song of Anil Kapoor and Sridevi's film showed the romance between the couple but today it becomes memories of them.
7. Rab Ne Banaya Tujhe Mere (Heer Ranjha) - This was a separation song where Sridevi was recalling the memories of her love Anil Kapoor in epic love tale.