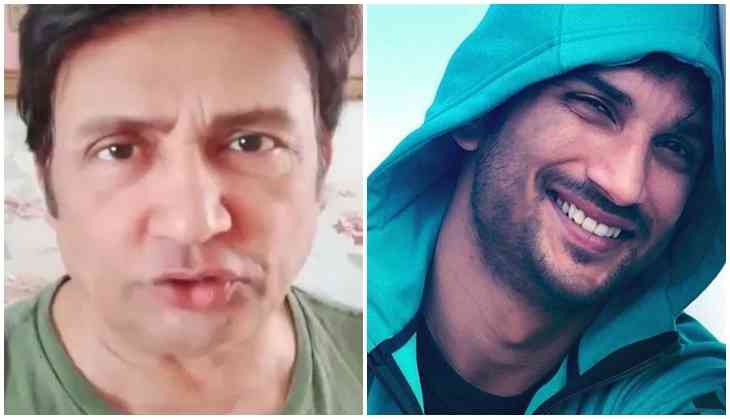 Shekhar Suman on Sushant Singh Rajput
Bollywood's veteran actor Shekhar Suman is leaving no stone unturned to bring out the truth and give justice to Sushant Singh Rajput who died by suicide on 14th June. Shekhar has formed a forum through which he is pressurizing the government to appoint CBI for this case. Lately, Suman also met Sushant's father in Patna to share the grief.
Yesterday, actor organized a press conference in Bihar itself to put forth his points as to why he thinks CBI interference is important. In his press conference, he raised many questions right from the absence of suicide note, to marks on Sushant's neck, to changing 50 SIM cards. The actor started the conference by saying that since police didn't recover any suicide note from Sushant's residence so many questions have cropped up.
He continued, "jo ladka raat ko party kar raha tha, jo subah uthke play station pe tha, jo ek glass juice maangta hai, aake bethta hai, uske man mein achanak aisi kya baat hui ki usne kaha chalo ab uthte hai suicide karte hai." He further added that even the CCTV cameras were not working and according to him the cameras were tampered on purpose.
Also Read: Tik Tok star Nagma Mirajkar lashes out at haters for bullying her over Chinese app ban
In the video, he further reveals a shocking detail that Dil Bechara actor changed almost 50 SIM cards within a few months. Raising concern over this he said when someone changes their SIM card then the reason behind is either he/she is trying to avoid someone or is trying to hide from one who is threatening him/her. Not just this he also raises the question as to how can he commit suicide because the height of the ceiling is not much. And then Sushant is already 6 feet tall so it's practically impossible to commit suicide.
Shekhar further talked about the marks on Sushant's neck and points out that when someone hangs oneself then there is V shape mark on neck. However, in the viral pic of the late actor, the mark on his neck was even from all sides.
Check out the video for full details:
Also Read: TikTok stars Jannat Zubair, Muskan Sharma, Fukru laud govt's decision on banning Chinese app
@shekharsuman7 sir mentioned everything which we all are saying from last few days. Thanks sir. He is our only hope. We all together must fight & win this battle. No matter what...but we have to win... #PMDoCBIEnquiryForSSR pic.twitter.com/6QHkvVcUOh

— Darling of India ❤️ (Justice for SSR) (@_Shilpi_Sharma_) June 30, 2020
Meanwhile, two days ago Shekhar met Sushnat's father in Patna along with his best friend Sandip Ssingh. He also addressed the media standing at Sushant's house and told them about his forum #JusticeForSushantForum.
Also Read: Shoaib Akhtar recalls when he saw Sushant Singh Rajput for first time; says this big thing about MS Dhoni