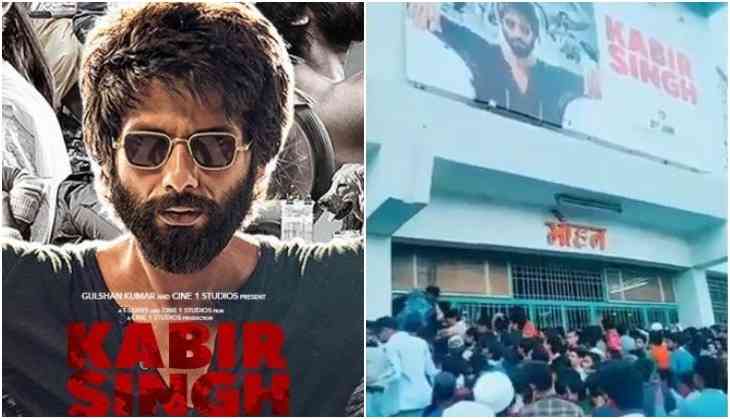 Shahid Kapoor has recently got his career's biggest hit ever in the form of Kabir Singh, a remake of Telugu blockbuster Arjun Reddy. The fans are liking the amazing performance of Shahid Kapoor and he has played a rustic alcoholic surgeon in the film. The film has collected around 70 crores in three opening days and it will soon enter 100 crore club.
Recently, one video has come out related to Kabir Singh in which fans can be seen going crazy over the tickets for Kabir Singh. In the video, a large number of audience can be seen outside the theatre in the queue to buy their tickets. The fans are losing control over not getting tickets and they are pushing the public. They also jumped the ticket counter and this video went viral on social media.
Let us tell you that Shahid Kapoor is playing medical student Kabir Rajdheer Singh who has zero anger management. Later he fell for Priti (Kiara Advani) and their love story is the soul of the film. Shahid Kapoor has gone into the skin of his character and he looks amazing as the angry alcoholic boyfriend Kabir Singh. Besides Shahid, the film also helped Kiara Advani to get a successful film.
Kabir Singh has directed Sandeep Reddy Vanga and he has added new flavour to his previous film Arjun Reddy for the Hindi version. Significantly, Arjun Reddy also saw this kind of craze in the theaters.