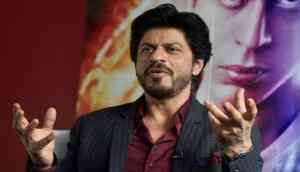 Shah Rukh Khan did not promote his recent release Pathaan in person and rather chose to interact with his fans on Twitter. The actor carried out many Ask SRK session on Twitter before and after his movie release. But the one on Monday was one of the most funniest ones. The actor spoke about all from his most annoying habit to why he was not feeling like a king at all on a Monday. The actor also talked about why he doesn't post pictures of his pets on Instagram.
Earlier, a fan asked the actor if he was feeling like the 'king of the world' and got the most unexpected reply. Sharing the problem he was facing at the moment, Shah Rukh replied, "Right now cleaning my son's toys….and can't find a crucial Lego piece…so King Ving I am not feeling like."
On being questioned about his most annoying habit, SRK replied, "I explain the same thing too many times…I explain the same thing too many times…I explain the same thing too many times!!!"
A fan also asked Shah Rukh, "Do you like pets? Why did you never have one?" The actor replied, "I have lots of pets I just don't put their pics on social media…don't want them to become more famous than me…."
Meanwhile, Pathaan is on the way to cross Rs 1,000 crore at the worldwide box office. According to the latest update by Yash Raj Films, the film stands at gross worldwide collection of Rs 988 crore. It stars Deepika Padukone in a glamorous role and John Abraham as the powerful antagonist. Directed by Siddharth Anand, the film also features Dimple Kapadia and Ashutosh Rana in pivotal roles.
Also Read: Ranbir Kapoor's 'love' message to his wife Alia, daughter Raha is winning hearts