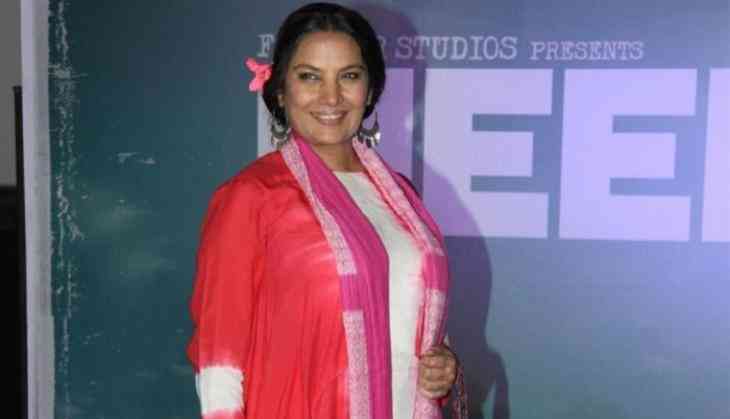 Shabana Azmi on Padmavati Controversy: It's hyper nationalism
Never one to mince words, Shabana Azmi believes India is experiencing hyper nationalism in context of the protests over Sanjay Leela Bhansali's "Padmavati". The veteran actress say the situation in the country is "alarming".
"What we are seeing now is hyper nationalism. It is something to be alarmed about. It is not that this is the first time it has happened. Culture and the arts become the first weapon of attack because the contrary country's image of self is defined by what the culture represents and so there have been these consistent attacks," said Shabana, during a panel discussion on "nationalism" at the Times Delhi Lit Fest on Saturday.
Bhansali's attempt to bring alive the story of Rajput queen Rani Padmavati on the silver screen with his movie "Padmavati" hasn't gone down well with Hindu groups backed by the BJP. It features Deepika Padukone as Rani Padmavati, Shahid Kapoor as her husband and a warrior king and Ranveer Singh essays Alauddin Khilji.
Bhansali faced many hiccups while shooting the film, but the protests escalated as the film neared its release date. There are conjectures that it "distorts history" regarding the Rajput queen, and Bhansali has denied it repeatedly.
The movie's release date has been deferred from the original December 1 date, but there are efforts from Hindu groups to have it banned.
Shabana -- who had also urged the film industry to take a collective stand against the ugly controversies and protests surrounding the release of "Padmavati" -- also said that there is nothing wrong in criticising art, but death threats to Deepika is not called for.
"Criticism is fine, dissent is fine, to say that you disagree completely is fine and what is not fine is threats of death, killing people, dismembering them in the context of Deepika. As an actress, her colleague, as a member of the industry, I think it has never been as bad as it is today," she said.
The actress is known for powerful and impactful films like "Ankur", "Arth", "Mandi", "Fire", "Mrityudand" and "Godmother".
Shabana, 67, opined that the purpose of art is not only to "soothe" but to also be the "voice" of the artiste.
"Art is not just to create a lullaby or spread beauty. It is also to raise our voice, it is also to be able to dissent, also to provoke. The purpose of art is not only to entertain, not only to placate but also to provoke.
"Art has the possibility to create a climate of sensitivity in which it is possible the change to occur. When you talk about change, there are various ways in which art is used. Sometimes that will have to come out very strongly. To muzzle the artiste' s voice is to muzzle the free spirit of your on country that you value so much," she said.
The actress believes there is a fine line between nationalism and patriotism though the "two tend to overlap at some point".
"You can continue to be critical of what is happening in your society. It doesn't not mean you are unpatriotic. If you say girls are being buried alive, it's not because you are being unpatriotic but it means that you want to say that it is wrong and should not happen," she said.
-IANS