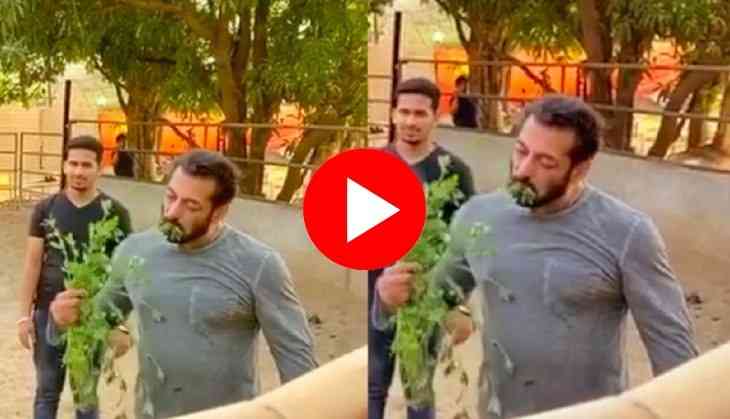 During self-isolation, Salman Khan is quite active on social media as he keeps his fans updating about what he is doing during a lockdown. Recently, he shared what he has eaten in breakfast with his love.
Bollywood's Dabangg Khan shared a video on his official Insta handle, in which he can be seen eating grass before he served to his love i.e. his horse.
Yes, you read it right, Salman ate grass leaves that he was feeding to his horse and even he enjoyed the grass while eating it.
After chewing the food of horse, Bajrangi Bhaijaan also said, "It's damn good ya.."
See video:
Amid lockdown, Salman Khan was also apprising people by putting himself under self-quarantined at his Panvel farmhouse. He shared a video with Sohail's son and his nephew Nirvan and urged people to stay indoors as they are scared due to the disease. They shared their lockdown experience in the video. He also reframed the superhit dialogue of Sholay, "Jo Dar Gaya Samjo Mar Gaya" to "Jo dar Gaya Samjho Bach Gaya".
Likewise other Bollywood celebs, Salman Khan also come forward to help people who are facing challenges during COVID-19 lockdown. Earlier on Wednesday, the Federation of Western Indian Cine Employees has confirmed that they had sent the details of 16000 daily wage workers to Salman Khan. In return, Salman Khan has started helping these workers by giving them money.
Also Read: Radhe actor Salman Khan shares pic of Masjid; thank people for understanding gravity of Coronavirus