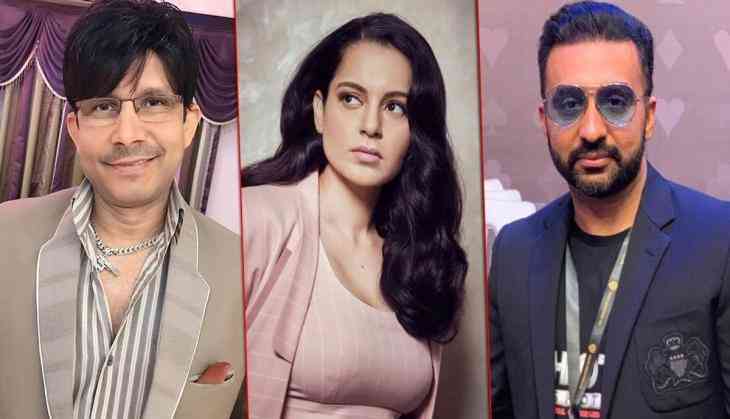 Bollywood actress Shilpa Shetty's husband Raj Kundra is at present all over the news channels following his arrest in a pronography case. Earlier on 19th July,
Mumbai Police took Raj into their custody as he was named the main conspirator in the case. Raj Kundra has been sent to judicial custody till 23rd July along with his partner Ryan Tharp, who was also nabbed in the same case.
Mumbai Police Commissioner, Hemant Nagrale established Raj Kundra's arrest and revealed that the case was filed with Mumbai Crime Branch in February 2021 for making pornographic films and publishing them through apps.
Soon after the news of his arrest broke out, a number of celebs including Kangana Ranaut and Poonam Pandey shared their thoughts on the matter.
Here's what they said:
Poonam Pandey:
Earlier, Poonam Pandey had registered case against Raj Kundra. As she claimed that his company used to handle her app and post terminating the contract, they continued to post her pictures and videos on the app. Following Kundra's arrest, Poonam put out an official statement that read, "At this moment my heart goes out to Shilpa Shetty & her kids. I can't imagine what she must be going through. So, I refuse to use this opportunity to highlight my trauma. The only thing I'll add is that I have filed a police complaint in 2019 against Raj Kundra and subsequently registered a case at the Bombay high court against businessman for fraud and theft. This matter is sub judice, hence I would prefer to limit my statements. Also, I have full faith in our police & the judicial process," she said.
Gehana Vasisth:
Gehana Vasisth a TV actress is out on bail in connection to the same case. She also reacted to Raj Kundra's arrest. Gehana, who was seen in 'Gandii Baat', has come out in support of Raj Kundra and talked about the content they made, In a video, she said, "I have a small request for everyone to not compare bold and erotica cinema with porn. Raj Kundra and I have been arrested for the same case, we have the same investigation going on. I know what was being made under Kundra's company. I have worked as a heroine in 3 films produced for Raj Kundra's app. He never forced me to do anything, I was paid according to the work I did and deserved. I had no issues with the work or the payment I received. I had no objections to the content, nor did I have any bad experience of working on the sets. Those films were released very well and neither of those films were porn movies. Those who have a doubt can use Google search and look for those films and my other work. None of it can be classified as porn."
Kangana Ranaut:
Kangana Ranaut, who is well known for voicing her opinions, took to her Instagram handle and reacted to Raj Kundra's arrest. Attacking the movie industry, she wrote, "This is why I call movie industry a gutter... all that glitter is not gold, I am going to expose under belly of Bullywood in my upcoming production called Tiku weds Sheru.. we need strong value system and conscience in the creative industry and of course a whip." The actress is currently shooting for 'Dhaakad'.
Mika Singh:
the singer has come forward in support of Raj Kundra. Terming him a nice guy, he told the paparazzi, "Main toh wait hi kar raha hoon ke kya hoga. Let's see. Jo bhi hoga acha hoga, mujhe itna knowledge nahi hai unke app ke baare mein. Maine ek app dekhi thi, wo simple app thi. Zyada kuch tha nahi uske andar so let's hope for the best (I am waiting to see what happens. Whatever happens, it will be for the good. I don't have much knowledge about his app. I have seen one of his apps and it was a simple one)."
Rakhi Sawant:
Rakhi Sawant also came forward and expressed her disappointed with the arrest of Kundra. She said, Raj Kundra is a respectable individual. She also went on to call Shilpa a very hardworking actress and said that she doesn't deserve to go through all this. She even went on to say that someone is trying to blackmail Raj and show him under wrond light. She even stated how Shilpa helped her with a few projects and claimed that someone is trying to defame her.
Kamaal R Khan:
Kamaal R Khan has also come out and reacted to Raj Kundra's arrest. He is often seen attacking the Bollywood celebs. He took to his official Twitter handle and wrote, "If you have to earn money to run your house by making porn films, then you are most poor person in this world. It shows that you have earned money through some bad ways.
Also Read: Mumbai Police opens up on Shilpa Shetty's role in husband's pornography case
Also Read: YouTuber Puneet Kaur makes shocking claims about Raj Kundra's adult app HotShots