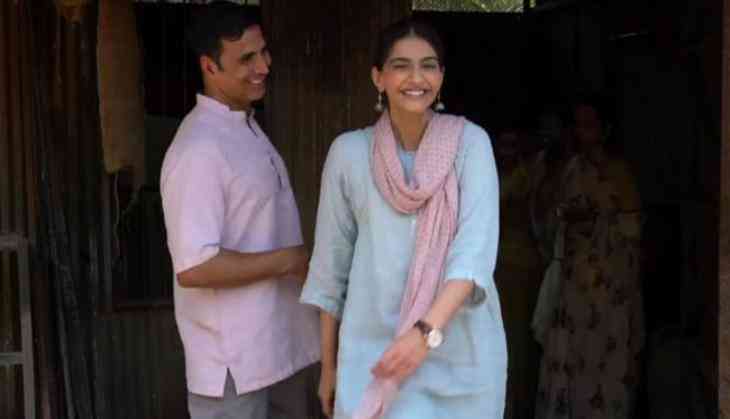 PadMan actress Sonam Kapoor says, Screen timing does not matter to me
Actress Sonam Kapoor, who plays a pivotal role in the Akshay Kumar starrer "Pad Man", says if the character is substantial, she does not mind playing a small yet important role in a movie.
It was the same case in "Bhaag Milkha Bhaag".
After her performance in "Neerja" which not only received positive reviews, but also got Sonam a special mention at the National Awards, has her criteria for choosing a film changed?
Sonam told IANS: "It is the combination of the story and my character; screen timing does not matter to me, honestly. One does not have to be in every single frame of the film to create an impact of the character. If my part is well-crafted, even with three scenes, my character can make a major impact on the story. And that's what matters."
Sonam says she is primarily interested in working with good directors because filmmaking is a collaborative art where working with the right team brings the best of every creative individual.
So, who are the director she wants to work with?
"There are actually few directors that I would love to work with again, like R. Balki, Rajkumar Hirani, Ram Madhvani. I loved working with them. That apart, I want to work with Shoojit Sircar, Vishal Bhardwaj and Shimit Amin among others," she said.
Despite her film choices, the tag of 'fashionista' never goes away from her image. But she says she will always remain unapologetic about it.
"I love wearing make-up and beautiful clothes. I think there is nothing wrong with it. If someone judges me based on that, it is his problem not mine.
"Seriously, I think when it comes to films, in last few of them, all my directors wanted me not to wear make-up because they think I have very good skin. That is why the no make-up looks. However, I do things in real life that I cannot get a chance to do on-screen. So yes, in public events, parties I flaunt good clothes," said the actress, who has featured in movies like "Raanjhanaa", "Khoobsurat" and "Prem Ratan Dhan Payo".
While Sonam's forthcoming release is "Pad Man", hitting the screens on January 25, later in the year she will be seen in "Veere Di Wedding" which will come out on June 1.
-IANS