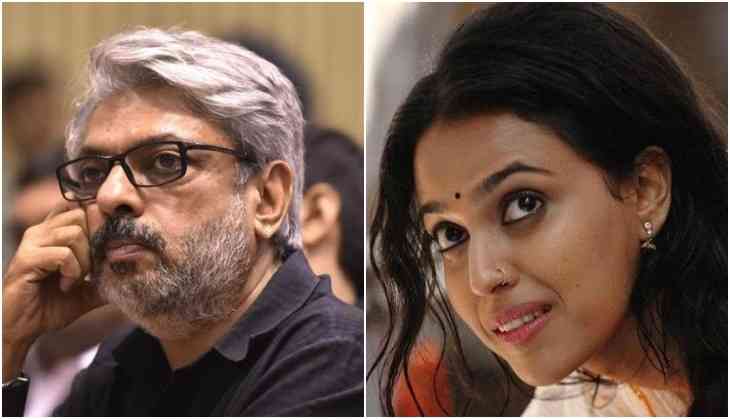 Padmaavat: Veere Di Wedding actress Swara Bhaskar slams Bhansali says - "At the end your film revolves around vagina"
The debate on Sanjay Leela Bhansali's film Padmaavat is going on in the whole country and some people have come out started protesting against the filmmaker. There are some people who didn't like the content of the film, some say that Khilji's character has shown much negative and some say there is some lack ness in the script. Even the journalist turned politician Ashutosh suggested Bhansali learn filmmaking once again.
In the midst of this all protest now Bollywood actress Swara Bhaskar has also jumped in and started slamming filmmaker Bhansali. Swara says that Bhansali has shown Sati tradition and Jauhar tradition badly in the film. Swara is hurt how Bhansali has shown the image of women in this film.
Swara wrote her views through an open letter and it was published in English website The Wire.
Also Read - Padmaavat: Ranbir Kapoor's parents pours love on Deepika Padukone for her brilliant performance in the film
The Wire quoted Swara Bhaskar, "You may be wondering why the hell I am going on and on thus about vaginas. Because Sir, that's what I felt like at the end of your magnum opus. I felt like a vagina. I felt reduced to a vagina–only. I felt like all the 'minor' achievements that women and women's movements have made over the years– like the right to vote, the right to own property, the right to education, equal pay for equal work, maternity leave, the Vishakha judgement, the right to adopt children…… all of it was pointless; because we were back to basics.
We were back to the basic question — of right to life. Your film, it felt, had brought us back to that question from the Dark Ages – do women – widowed, raped, young, old, pregnant, pre-pubescent… do they have the right to live?"
Also Read - Padmaavat Box Office Collection Day 3: Sanjay Leela Bhansali's film ruling like a queen at the theaters
Well on the professional front Swara Bhaskar who is famous for doing unconventional roles in the films like Tanu Weds Manu series, Nil Battey Sannata, Anaarkali of Aarah and others is busy in the shooting of her upcoming movie Veere Di Wedding. The film is slated to release on 1st June 2018.