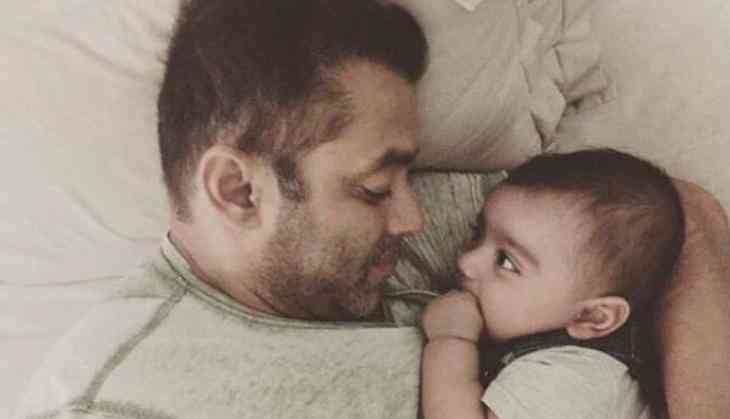 Bollywood superstar Salman Khan is a short temper person and it is known to the whole film industry. So one can imagine waking him up from his sleep can become a trouble. Well, now Salman Khan's brother-in-law Aayush Sharma who is all set to make his Bollywood debut with the film Loveyatri revealed that there is only one person who can do whatever he wants to do with Salman Khan.
In a recent interaction with the Deccan Chronicle, the Loveyatri actor Aayush Sharma revealed Salman Khan's relationship with Ahil and Arpita Khan.
"With Salman bhai, Arpita has been more like his daughter than sister. He's always taking care of her like a daughter. Now Arpita and his son is even special. It's not just for Salman bhai, but the whole family. Salman bhai also gets a little break with Ahil. If Ahil wants bhai to get up, he'll pull him and bhai doesn't say anything to him. But we're not allowed. He gets away with everything. Ahil doesn't sleep before 4 am. He likes to party with us. Bhai even takes Ahil with him to shoot," Aayush Sharma told Deccan Chronicle.
According to Aayush Sharma, Salman Khan is so busy in his work and whenever he gets free he always spends it with his sister and especially with Aayush Sharma. Even Aaysh feels that he was so busy in the shooting of Loveyatri that he failed to give so much time to Ahil's grow up phase.
He further added, "When I started shooting for Loveyatri, Ahil was still babbling. Now when I come back home, I see him making sentences and communicating fully. So for me I've lost a big chunk of his time. Whenever I come home and hear him say something new, I look at Arpita and say, 'Every time. I missed out on so many things.' He walks so fast now! I remember holding him for the first time in the hospital. He once told me, 'Papa aap Chogada'. I have missed out a lot but I think it will be worth it when Loveyatri will be hit and he will be proud of papa when he goes to school,"