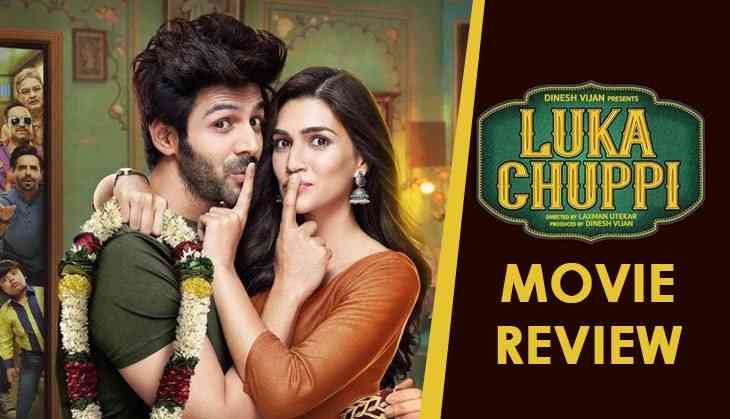 Luka Chuppi Movie Review: Kartik Aaryan after doing a charm at the box office and the audience with his last film Sonu Ke Titu Ki Sweety is now once again back with another quirky comedy film Luka Chuppi. This time he has actress Kriti Sanon with him for the story about a live-in relationship in India. Well, after the much-impressed trailer the film has now released in the theatres so let's see what it is all about.
Movie Name - Luka Chuppi
Star Cast - Kartik Aaryan, Kriti Sanon, Vinay Pathak, Aparshakti Khurrana, Pankaj Tripathi, Atul Srivastava, and others
Director - Laxman Utekar
Producer - Dinesh Vijan
Music - Tanishk Bagchi
Genre - Rom-Com
Critics Rating - 3 stars
STORY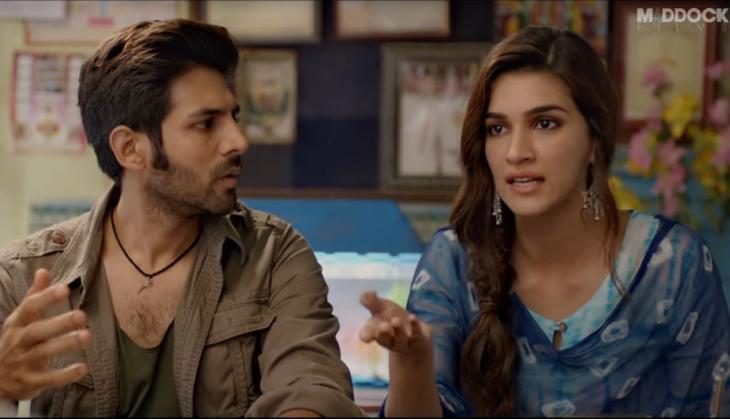 Luka Chuppi film
Guddu Shukla (Kartik Aaryan) is a local TV reporter at Mathura, and quite popular in the city. One day, a political leader Vishnu Trivedi (Vinay Pathak) with her daughter Rashmi (Kriti Sanon) comes in Guddu Shukla's office and requests them to take Rashmi as an intern for a month. As the owner of the news channel asks Guddu to take Rashmi with him for local packaging about what Mathura people think of Live-in relationship. In this one month internship, Guddu and Rashmi fall in love while covering the Mathura.
However, in Guddu's family, he has two elder brother and his parents but there is a problem that his elder brother is not getting married. Actually, no girl is ready to marry his aged elder brother but Guddu's family and parents have said that they won't allow Guddu to marry before his elder brother. One day, Guddu decides to marry and proposes Rashmi. Rashmi who is scared of a marriage asks Guddu to be in a live-in relationship. This is how the Luka Chuppi of Guddu and Rashmi starts with their families and society because it is difficult to stay in a live-in small city like Mathura and Gwalior.
DIRECTION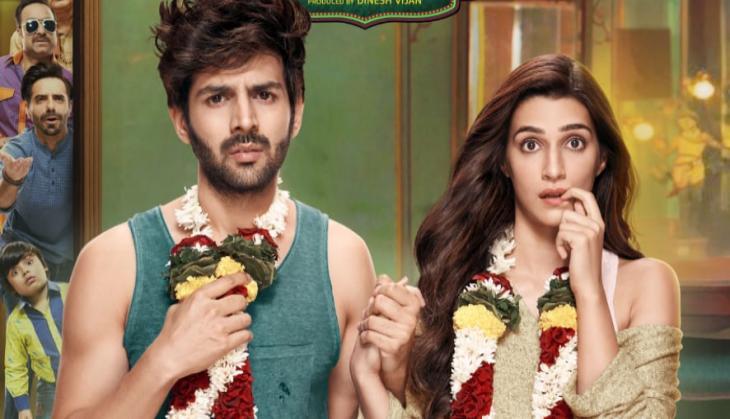 Luka Chuppi film
Marathi director Laxman Utekar makes his Bollywood directorial debut with Luka Chuppi, and he has started with a comedy venture. Laxman set the film in small cities like Mathura and Gwalior and that too narrating a story of new age thinking live-in relationships. Well, Laxman has chosen every single thing to make the film realistic in local cities and from location to the language the film should go with full marks.
Not just language but the way director and writer Rohan Shankar have take a satire at local parties and groups like Bajrang Dal who are totally against the western culture. However, talking about the overall film then the first half is interesting and full of comedy but in the second the director and writer have not much to do. There were some scenes that were really boring at some point but the flow of the film overall is good. Finally, after concluding both first and second half, the film is good.
PERFORMANCES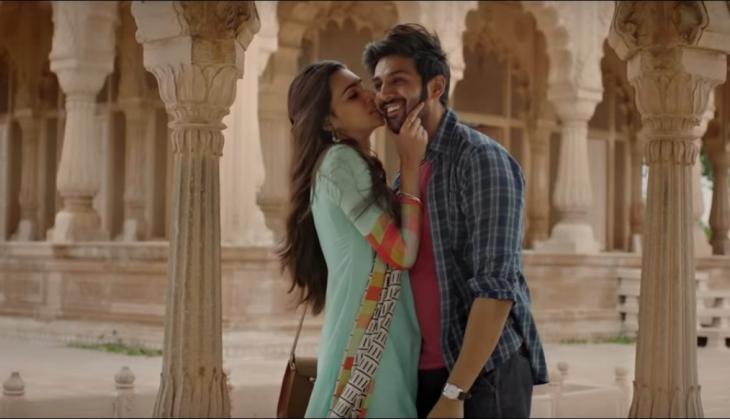 Luka Chuppi film
Kartik Aaryan is new age Akshay Kumar(comedy part) and there is no doubt in it. He first proved with his acting skills, then with his charming looks and now with his maturity in acting and screen presence. This time, Kartik won't make you feel that he is a newcomer actor and even in some scenes he will make you feel that he is master in this genre.
Kriti Sanon plays the role of Rashmi Shukla, well Kriti is playing a sweet and modern girl in the film but the best thing is that even after her thinking of modern age doesn't break her from being a small town girl. If you look at Kriti Sanon's role then there are two parts of her role, one side she is totally a modern age girl and the other one is totally a 'Sanskari' daughter and daughter-in-law. However, Kriti is good in both sides and one of the best thing in her role is her costume and clothes.
Pankaj Tripathi has again stolen the limelight with his role of Babulal, now what should say about this man he is a scene stealer. Well, he has just been seen in the film when he needed not much to bore his part but wherever he is he just makes you laugh and sometime to even fall down from your seats. There is no doubt that now the time has arrived when the roles will be written for Pankaj Tripathi to just make the films interesting and to add comic element.
Aparshakti Khurrana has done the same what he did in last film Stree and the same goes to Atul Srivastava. Even a few scenes of Atul Srivastava will recall your memories of Stree. Vinay Pathak plays a politician and after a long time, he also has hot a different kind of role that suits him.
MUSIC
Well, there is not a single original song in the film and Tanishk Bagchi has recreated all five songs. But when there is no originality that music should not be appreciated at all. However, the background score is quite amazing and especially when songs like Babul of Hum Aapke Hain Koun comes in the background when Kartik is leaving home to get into live-in is really a laughter riot.
VERDICT
If you have loved watching films like Stree and Badhaai Ho, then Luka Chuppi should be in your watchlist. Luka Chuppi is entertaining from the word go, and Kartik Aaryan is on the way to make you laugh again and again. Brilliant and amazing storyline and a film that can be watched with family as well.