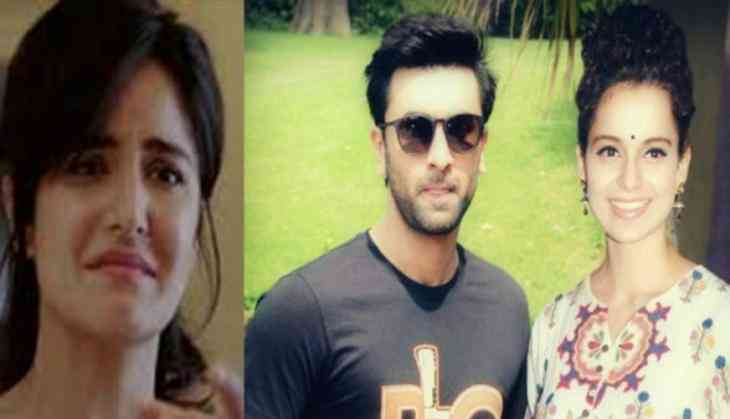 Leaked Email: Not only Hrithik, Kangana was even in relationship with Ranbir Kapoor
Kangana Ranaut's episode of Aap Ki Adalat went viral on social media and everyone appreciated it. Even people targetted Hrithik Roshan and his family for the misbehaving with the actress. Now, this chapter has taken forward when Hrithik Roshan's lawyer has started leaking e-mails.
Now, these emails not only have revealed some secrets of Hrithik and Kangana relationship but now one new revelation has come out. This revelation is surely a high point of this controversy and also shocking to many. Even this secret has made a superstar in shock. Actually, everyone knows that Ranbir and Kangana were always been good friends, but now these emails have revealed that not only good friends they were much more the good friends.
According to the leading daily Koimoi.
Here is the email of Kangana revelling relation of her with Ranbir:-
So I remember in one of the mails that rangu sent, she mentioned rk and me being friends with benefits.
Rangu was very keen that me and rk have a relationship because you both have exchanged some hostile mails and when rk met her he gave her a lot of importance.
Anyway, after you redeemed yourself at sanjay's , she's again jumped to your side.
Let me clarify my and rk's equation once and for all, I give you all the right to discuss the events and facts as mentioned below with rk to confirm their authenticity.
he never paid any attention to me before queen, on few occasions i even got brotherly vibes from him but after he saw queen footage in phantom's office he approached me on my bbm and started dropping funky links to videos and other random stuff.
when I was shooting in Gwalior for revolver, he made slight straightforward approach and in its response, i told him that i am in love with someone and i am distressed all the time( that was the time when you'd come to my b'day and tension between us was at its peak, i didn't take your name but I thought if i tell him this, he will understand me better)
Box office: Varun Dhawan is ready to break this star's 100 crore club record

Further….
…then again we lost touch when i was in NYC, he texted asking howz NYC? and i asked him if he'd be interested in a physical relationship with me, he got a little intimidated and asked why not a regular relationship, to that isaid because said because i am in love with someone and i think he felt bad about it.
I have a feeling he knows its you though i never mentioned your name, iswear on my brother i love him the most.