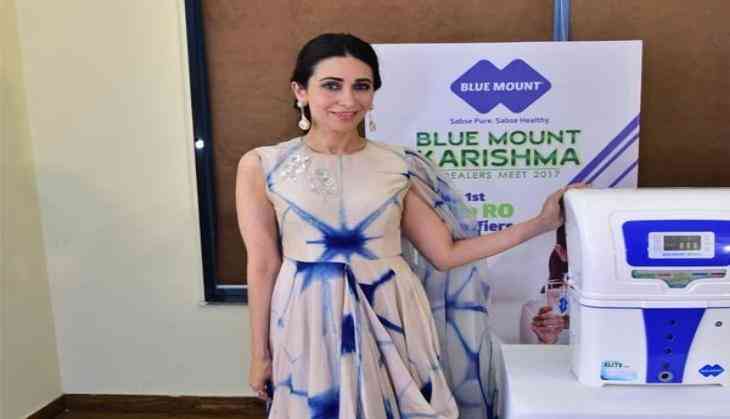 Blue Mount, India's leading manufacturer of water purification systems, introduced its new alkaline RO and UV filter, with renowned actress Karisma Kapoor doing the honours.
Managing director of Blue Mount Appliances, Vishal Gupta, said that his company's mission is to provide pure and safe drinking water to the common man to promote a healthy lifestyle.
Blue Mount was adjudged Asia's Greatest Brand earlier this year because of its contribution to find a solution to major global water problems that affect health.
One of the fastest growing companies of its kind, Blue Mount is creating milestones with its leadership role in the domain of water purification.
The company's unique technology brings the power of RO without mixing purified water with the impure variety to maintain the TDS.
Besides focussing on skin health and stamina, the product addresses a range of health issues like mental growth, immunity, weight management, and bone strength.
The new Blue Mount alkaline RO and UV filter is fitted with smart protector technology which maintains the pH level and ultraviolet filtration. With a catchy design, it consists of a hygienic tap outlet. Easy to install and maintain, the product comes with external and built-In storage options.
Unveiling the product, Karisma said, "Blue Mount understands the need of pure water for every individual. The purification hassles that most water purifiers bring with them are absent in the Blue Mount range of filters."
Assuring of safety and quality of the product, Gupta said, "We have a highly qualified team of experts who are completely devoted to crafting technology that is powerful, safe and of superior quality."
He informed that his company has a wide range of products to cater to the diverse needs of Indians.
-ANI