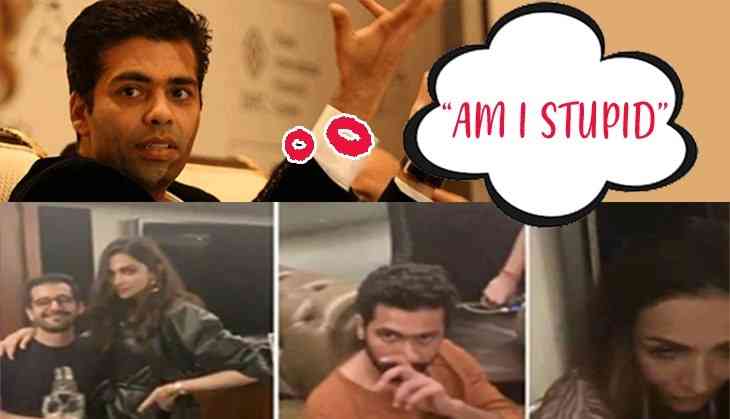 Karan Johar has finally reacted to the drug party row after weeks when SAD MLA Manjinder Singh Sirsa accused the filmmaker of hosting the drug-fuelled party at his residence. The party was attended by A-listers Ranbir Kapoor, Deepika Padukone, Malaika Arora, Arjun Kapoor, Shahid Kapoor, wife Mira Rajput, Vicky Kaushal, Zoya Akhtar, Varun Dhawan, girlfriend Natasha, Ayan Mukerji and other big personalities.
Recently, in a conversation with journalist Rajeev Masand, Karan rubbished the accusation by calling it "baseless."He further went on to say that all the actors were having an easy night at his place after a hard week of work and it was he who made the video and posted on Instagram. He said that he is not stupid to upload a video if anything would have been fishy.
Also Read: Box Office Battle: Kartik Aaryan's Bhool Bhulaiyaa 2 vs Ranbir Kapoor' Shamshera and Rajamouli's RRR
When asked about Vicky Kaushal he said that "now one cannot even scratch their nose" and cleared the air by saying that he was recovering from dengue and was having warm water with lemon. On Ayan, he said, "Apparently, you are not allowed to put your phone in your back pocket and a shadow of light is perceived to be some kind of powder."
On the show, Karan went on to clear the air that it was a party where his friends were chilling over some wine, good food and music. Also, before he shot the video even his mother was part of the party and was a kind of family, social gathering.
When asked why didn't he reacted to the allegation made on him to this he said that he doesn't react to baseless accusations and also added that he is this allegation turned out to be sourer then he will take action against the concerned person. As he is hampering the image and reputation of all the prominent celebs including him.
He added, without any solid proof one cannot put any allegation on them and called it a 'ridiculous' act.
Also Read: Gully Boy actor Vijay Varma and Janhvi Kapoor to collaborate for Zoya Akhtar's part in Ghost Stories