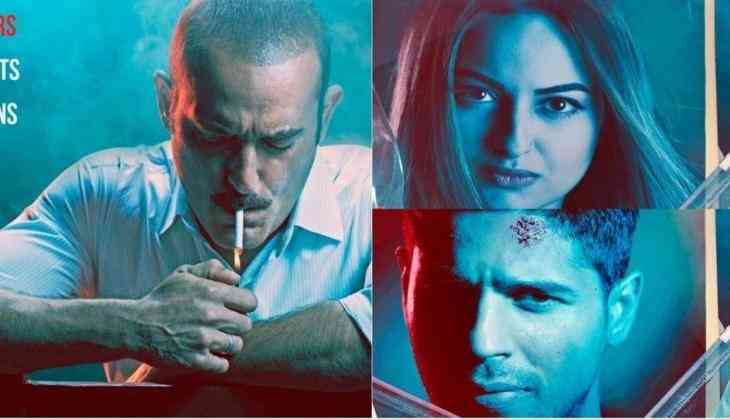 Ittefaq Movie Review - The Sidharth Malhotra and Sonakshi Sinha starring much talked about film Ittefaq has released this Friday. The filmmaker Abhay Chopra thought of making the remake of his uncle Yash Chopra's thriller film Ittefaq with the new twist and turns.
Movie Name - Ittefaq
Star Cast - Sidharth Malhotra, Sonakshi Sinha, Akshaye Khanna
Director - Abhay Chopra
Producer - Karan Johar, Shah Rukh Khan
Music - Tanishk Bagchi
Genre - Revenge Thriller
Critics Rating - 3 stars
Story
The story of the film revolves around a murder mystery and a cop named Dev played by Akshaye Khanna is on a mission to solve the mystery. One night Vikram Sethi (Sidharth Malhotra) reaches Maya (Sonakshi Sinha)'s home in a critical situation. He tells Maya that he met with an accident and ask her to help him, on the other hand, Maya was also in a different situation waiting for her husband. Then a murder take place and later it was revealed that not one, but two murders took place that night - one of Vikram's wife and another one of Maya's husband. The mystery is to find out who the real murderer is.
Also Read - 'Race 3' casting confirmed! Sidharth finally speaks on the real reason why he didn't sign Salman Khan film
Direction
The direction of Abhay Chopra is surely commendable. This is to notice that it is his first directorial film. Abhay has made the script with a lot of twists and turns and even he has managed to make it really different from the previous one of Rajesh Khanna. We should clap for Abhay Chopra for this interesting film.
Performances
Forget Rajesh Khanna and Nanda, Sidharth Malhotra and Sonakshi will make you forget them and even the original film. Sidharth has not shown the secret behind his fear face and on the other hand, Sonakshi will make you believe in her double mind game. Akshaye Khanna is brilliant as the cop and he has made this film to another level.
Also Read - Ittefaq Box office Prediction: This Sidharth Malhotra film may collect 4-5 crores on opening day
Music
As this film is a murder mystery so the makers have tried not to reveal much about the film so they have not forcefully put the music in the film. There is a song Raat Baaki and that was used as the promotional song. Tanishk Bagchi has done a good work in this song.
Watch it or not?
This film is surely an interesting murder mystery tale to watch and you will surely get amazed by knowing the secret of the film.