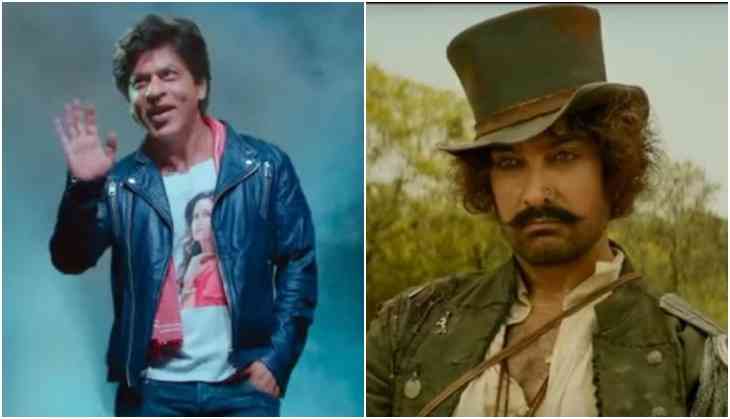 Thugs of Hindostan starring Amitabh Bachchan, Aamir Khan, Fatima Sana Shaikh, and Katrina Kaif has been flooded with the negative comments and reviews. Fans have targetted the makers for not going up to the mark and they have totally failed on the expectations of them. Since the film has released from critics to the fans they just are criticizing the lead actors Amitabh Bachchan and Aamir Khan for doing Thugs Of Hindostan.
Recently, when SRK was asked about his opinion and review about the film. He said, "I would like to say something. It's a little personal and I don't know whether it's right to say it or not. This is something that's saddened me and so I want to share it. When it happened to me personally, I wasn't so sad, but this time I am. There are people who have given excellence to cinema for years. A film can be good, a film can be bad; none of us can ever claim ki maine duniya ki sabsi achchi film banayi hain. Mr Bachchan and Aamir have been people who have constantly contributed to the excellence of cinema."
"The greatest contribution to Hindi cinema in the last 10 years has been from Aamir, and with Amitji, it's been even longer. Now if a film of theirs (Thugs of Hindostan) doesn't reach the level that you expected it to, does it take away from what they have done for cinema? I think some people have been a little too harsh. It's heartbreaking. It doesn't mean that their spirit is broken, they are all amazing artistes who will bounce back." He added.
November 7, 2018
"But one needs to be a little less harsh. I think Stree was fabulous and we need to make 20,000 films like that. But I also think that Thugs of Hindostan is fantastic. Sometimes we do go wrong, but Aamir has never done a film in which he hasn't put in his best… I've known him for 20 years. And if there's anyone who can put in even more effort than Aamir — which Aamir will also agree — it's Amitji... and at this age! So they've come in with good hearts and great talent and tried to make a film which tries to open up a new genre." Aamir Khan praised Aamir and Amitabh Bachchan's hard work.
#ThugsOfHindostan
HINDI:
Thu 50.75 cr, Fri 28.25 cr, Sat 22.75 cr, Sun 17.25 cr, Mon 5.50 cr, Tue 4.35 cr. Total: ₹ 128.85 cr
TAMIL + TELUGU:
Thu 1.50 cr, Fri 1 cr, Sat 75 lakhs, Sun 75 lakhs, Mon 50 lakhs, Tue 40 lakhs. Total: ₹ 4.90 cr
Total: ₹ 133.75 cr
India biz.#TOH

— taran adarsh (@taran_adarsh) November 14, 2018
Meanwhile, after 6 days at the box office, Thugs of Hindostan has just gone disaster as per the expectations. The film just has done 128.85 crores at the box office in Hindi only.
Also Read - Hardik Pandya and KL Rahul to make their debut on 'Koffee with Karan' season 6