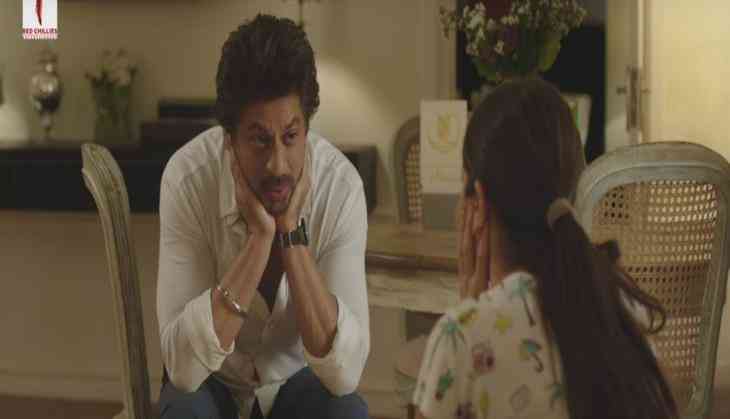 I wanted to launch 'Hawayein' in the rain: Shah Rukh Khan
Superstar Shah Rukh Khan, who is the lead actor and producer of the film "Jab Harry Met Sejal", wanted to launch the song "Hawayein" while it was raining to make the song more impactful for the audience.
During a press conference here, when it suddenly started to rain, the actor said: "I wanted to launch Hawayein in the rain. I wanted everyone to get wet and enjoy the song."
The song was launched on Wednesday.
Shah Rukh even joked about opening up the shed of the event's venue so that the rain could pour in on the audience.
"This is a very beautiful love song, the song's title is just like today's weather, 'Hawayein'. The song has also been picturised beautifully. It's a very cosy song. Pritam has worked very hard with Imtiaz and Irshad Kamil to make this music," he said at the launch.
Shah Rukh was accompanied by director Imtiaz Ali and co-star Anushka Sharma along with music composer Pritam.
Talking about the song, Ali said that 'Hawayein' is the most intimate song between Harry and Sejal in the Film.
"This is the fifth song that we are releasing. I am happy with the results of the previous songs. I am glad that everyone has loved them. 'Hawayein' is a romantic number shot mostly in Budapest. I think this is the most intimate song between Harry and Sejal in the film." said the director.
Since Shah Rukh has worked with Anushka in films with the same romantic genre, but with different directors -- Yash Chopra, Karan Johar and Imtiaz Ali, Shah Rukh commented that all three directors have a huge inclination towards romance as a subject.
"Anushka and I have been fortunate to work with Karan Johar, Yash Chopra, and Imtiaz Ali. They all have a huge inclination towards romance, love and relationships more than anything else. But I think the essence of their stories is the same," he said.
"What's different with Imtiaz is, when you watch two people interact in his films, they seep into your hearts without having to introduce too many external obstacles and plot points. I think his stories are about the simple things."
"I didn't understand until I worked with him that his films are about special moments. As far as the essence is concerned I think every romantic filmmaker do it with a lot of depth and the same essence of love is the most beautiful feeling," the "Raees" actor added.
"Jab Harry met Sejal" is presented by Red Chillies Entertainment.
The film is about the duo travelling across different countries looking for Sejal's lost engagement ring.
"Jab Harry met Sejal" is set to release on August 4.
-IANS