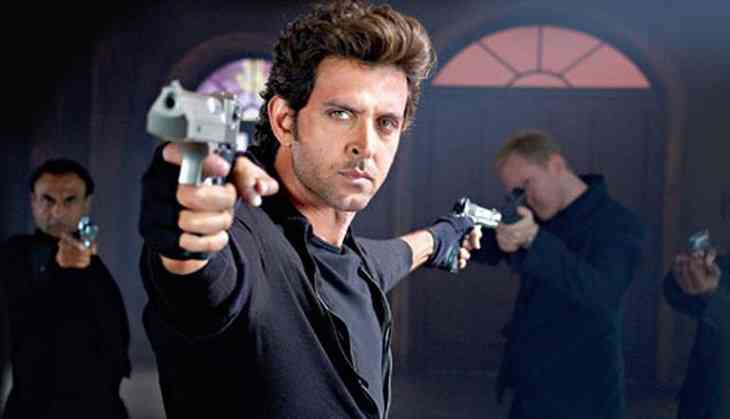 I love challenges: Hrithik Roshan
On screen, he has portrayed difficult roles ranging from a blind man to a quadriplegic and a mentally disabled character, and actor Hrithik Roshan says he doesn't rule out going behind the camera as he loves challenges.
Asked if he sees himself directing in the future, Hrithik told IANS over e-mail: "I love acting, it's my passion. Maybe someday if I feel it's the right time for me to go behind the camera, I will. I'm a man who loves challenges."
Hrithik, who is the son of filmmaker Rakesh Roshan, made his acting debut in 2000 with the blockbuster "Kaho Naa... Pyaar Hai".
Touching almost two decades in Hindi filmdom, the actor has been a part of several films like "Kabhi Khushi Kabhie Gham...", "Koi... Mil Gaya", "Krrish", "Dhoom 2", "Jodhaa Akbar" and "Guzaarish".
"It's been 17 years since I made my debut in Bollywood and as I look back, it's very nostalgic for me. My time in the industry has taught me a lot and helped me grow into the person I am today. My career in the movies has been very rewarding and I cherish each moment," said Hrithik.
He feels "more evolved" every year and with every film.
Is there anything he would like to change about his journey?
"Not at all! It has been an amazing journey so far and hopefully, there is a lot more to come. Not only did I get a chance to be a part of some amazing films, but also work with some really talented people," he said.
Hrithik, 43, says he wouldn't change a thing about how his professional life has turned out.
"I have no regrets and I wouldn't change a thing," said the father of two, who was married to Sussanne Khan.
The actor was last seen on screen in "Kaabil", where he portrayed a blind man seeking revenge for his wife's murder. The Hindi film industry has seen a sudden surge of message-based films in the industry in the recent past.
Asked if he feels Bollywood is seeing a new phase where films with messages and dealing issues are taking over commercial films, he said: "Indian cinema is the largest in the world and has stood the test of time, making it so unique."
Films have a strong impact on the audience, he feels.
"Cinema in India is the biggest form of entertainment and with a great impact on people. In today's day and age, I feel films have become a powerful medium to deliver a message to the audience," he said.
Hrithik spoke to IANS in the capacity of being the brand ambassador of luxury timepiece brand RADO, for which he launched a new sport inspired collection earlier this week.
"Watches for me are just not an accessory but an integral part of my wardrobe and style. They are also the best way to keep track of time as I believe time management is the key to success," he said.
Hrithik is also a lot of sports.
"It helps you learn discipline, face challenges and is a great way for keeping fit. Also, I think we are in an era where sports is getting the importance that it deserves on a national and a global level."
-IANS