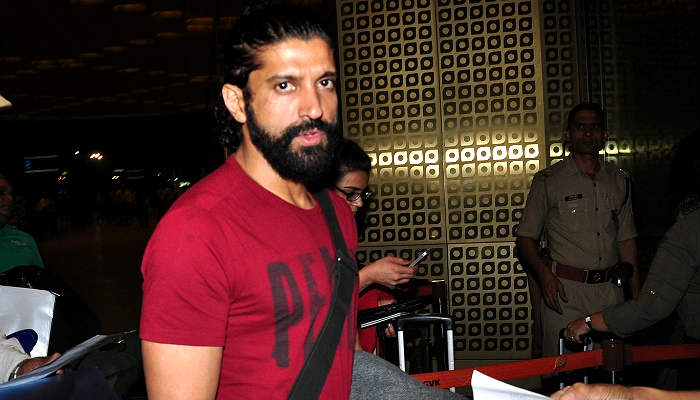 Bollywood celebrities like Amitabh Bachchan, Rishi Kapoor, and Karan Johar have wished the "talented" actor and filmmaker Farhan Khan on his 42nd birthday on Saturday.
Farhan's friends and co-workers like Priyanka Chopra, Farah Khan, and Anil Kapoor wished him an "amazing" year full of happiness, luck and laughter.
Farhan, who is the son of screenwriters Javed Akhtar and Honey Irani, is a film director, screenwriter, producer, actor, playback singer, lyricist and television host.
He began his career in Bollywood by working as an assistant director in Lamhe and Himalay Putra.
Farhan made his directorial debut in 2001 with Dil Chahta Hai. The film also won a National Award. He also wrote lyrics for the soundtrack of the Hollywood film Bride and Prejudice.
The 42-year-old actor started his acting career in 2008 with Rock On!!, for which he won a second National Award for Best Feature Film in Hindi as producer.
Here's what celebs had to say on his birthday:
Amitabh Bachchan: Happy birthday Farhan and thank you for taking care of me and my daughter in Wazir.
Rishi kapoor: @FarOutAkhtar Birthday wishes to the volcano of talent! Much love xxx
Karan Johar: Known him for nearly 40 years! Grew up together and have tons of memories... happy birthday my friend! @FarOutAkhtar.
Priyanka Chopra: Thank you so much @FarOutAkhtar and a very happy birthday! Have a wonderful year! "Wazir" looking amazing.
Ranveer Singh: Thank you Ratan and happy birthday to you my rockstar supernova brother! Ab kya karenge? (what shall we do now?) "Havan karenge" (x 3) #partytime.
Farah Khan: Happy birthday to my little brother @FarOutAkhtar... Let's have a gift competition...I've got nine till now, Farhan... Aur tum? (and you?)
Shraddha Kapoor: Happy birthday @FarOutAkhtar! Keep being the coolest rockstar that you are. Rock on!
Anil Kapoor: Director, singer, actor and a true MARD... Here's celebrating you @FarOutAkhtar! Happy birthday Sunny boy!
Boman Irani: Happy birthday brother @FarOutAkhtar. Have buddy memories with you to last a lifetime; looking forward to more.
Aditi Rao Hydari: Happy birthday @FarOutAkhtar. A real life hero, a true MARD, an epic rockstar in every sense of the word and the best Danish Ali for Ruhana!
Sunidhi Chauhan: Happy Birthday @FarOutAkhtar! Big hug!
Pulkit Samrat: The only one I know who defines "King" of all trades @FarOutAkhtar Wish you a very Happy Birthday!
Arjun Rampal: Happy birthday, brother Adi @FarOutAkhtar. Rock on for the rest of the year, have a super day and the most brilliant year ahead. Love Joe.
Riteish Deshmukh: Happy Birthday my friend @FarOutAkhtar. Have a great one-love Namdev.
-- IANS