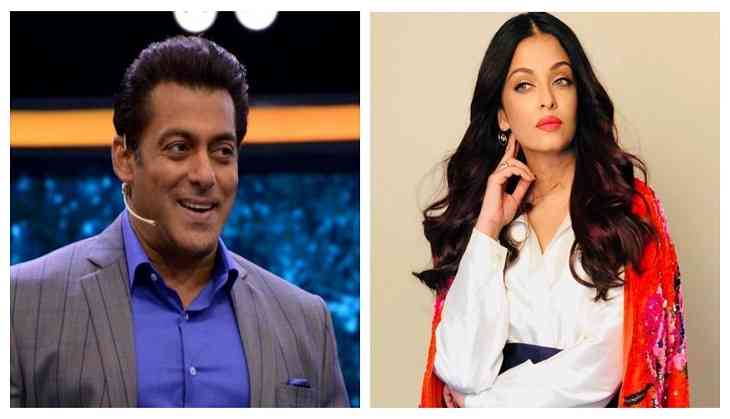 Bollywood most famous love story was Salman Khan and Aishwarya Rai. Whenever their names come together, their fans always become super excited and love to know more about them. However, their love didn't continue and ended for a shocking reason. Recently, Salman Khan got blushed after hearing the name of Aishwarya Rai Bachchan.
Well, it was the scene from the set of Sony Tv's famous show 'Dus Ka Dum' where Salman invited the actor Anil Kapoor for doing the promotion of upcoming film Fanney Khan.
During the show's shooting something was happened with Salman Khan that the video of that went viral over the Internet.
In the video, you would see that when Fanney Khan actor Anil Kapoor was talking about his film and during which he talked about the film actress in leading role Aishwarya Rai Bachchan then the reaction of Salman Khan was amazing.
Actually, in the video, Anil Kapoor has come along with the debutant actress Pihu aka Lata in Salman's show and during that he also talked about Aishwarya Rai and after listening to the name Salman's reaction was so interesting that it also made the audience to shout, hooting and whistling.
Sooner, the video went viral on social media.
Here's the video:
Here's what Anil Kapoor said:
He said that our Lata is the big fan of Baby Singh. Anil introduced that Baby Singh role has played by Aishwarya Rai Bachchan. In reply, Salman said 'acha'.
Check out the complete statement of Anil Kapoor:
Well, Salman reaction was very interesting and it shows that something is still there in his heart!
Aishwarya's upcoming film has been directed by Atul Manjrekar, the flick has been inspired from Dutch film Everybody's Famous. Fanney Khan is all set to hit the silver screen on 3rd August 2018.
Watch Video:
Also read: Bigg Boss 12: This porn star will be a contestant in Salman Khan's show but on this big condition!