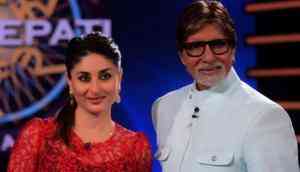 Kareena Kapoor & Amitabh Bachchan
Bollywood superstar Amiabh Bachchan on one occasion shared a story from the shooting of Pukar (1983), which involved him washing the feet of a crying Kareena Kapoor, and trying to assure her that he is not 'evil'. Big B wrote about this incident on his blog in 2013.
Young Kareena Kapoor was overly upset when she saw him beating up her father Randhir Kapoor while shooting for an action scene, Amitabh jotted down in his blog. Kareena held on to Randhir to save him from Amitabh's punches.
"I was narrating to Kareena, one such incident when we were shooting for Pukar in Goa and how she looked with her cute summer hat with little pink flowers on them, and how troubled she had been when during an action sequence I was hitting her father. She, in her innocence, had run on to the set in the outdoors and clung to her father to protect him from this 'evil' man who was beating him up," Big B wrote.
Amitabh Bachchan divulged how Kareena Kapoor seemed to have warmed up to him after he washed her feet.
"In tears and most worried, she was relentless and very disturbed. She soiled her pretty little feet in the sand and in order to settle her down I had asked for some water and washed her tiny feet clean, to make her realise that this act was not for real but an enactment. I think after the feet washing, her opinion seemed to have changed about me. I wasn't that 'evil' after all! She still remembers that moment," Amitabh wrote.
Earlier, Amitabh put out an image of Kareena Kapoor shedding tears on the movie sets of Pukar and him looking at her injured foot. "Guess who...? That be Kareena Kapoor on the sets of PUKAR shooting in Goa... had come with dad Randhir... hurt her foot... and yours truly putting medication and taping it," he wrote.
The veteran actor and Kareena Kapoor have since acted together in movies like Dev, Kabhi Khushi Kabhie Gham and Satyagraha. Kareena also made her film debut alongside his son, Abhishek Bachchan, in Refugee.
Also Read: Salman Khan's bodyguard Shera recreates Antim's popular dialogue; hilarious video goes viral
Also Read: When Akshay Kumar kept a close eye on wife Twinkle Khanna and Bobby Deol for this reason