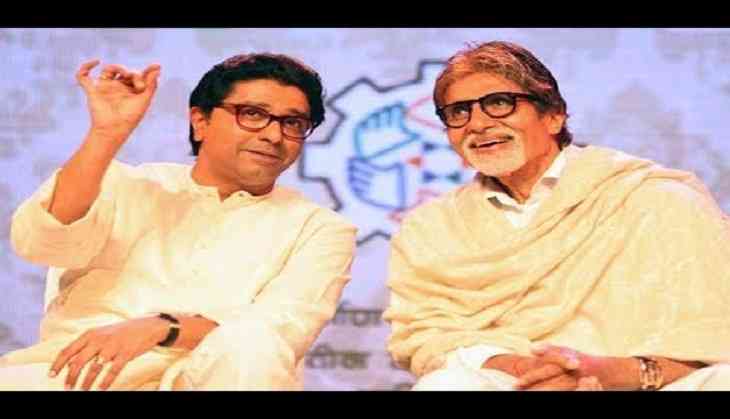 Bollywood actor Amitabh Bachchan and MNS chief Raj Thackeray's friendship have been both sour and sweet. There were differences between the two when the latter accused the actor for not contributing to Maharashtra despite the fact that he had lived in the state fro many years. Amitabh's wife Jaya Bachchan came out in support of the actor and said in a statement, "Hum UP wale hain, Hindi mein hi bolna pasand karenge."
Also Read: Amitabh Bachchan 75th birthday: 'Don ko pakadna mushkil he nahi, namumkin hai' and his 5 other memorable dialogues
But both the eminent personalities decided to forget their past and start afresh with their friendship and since then the MNS chief had been doing something special for the actor since then. Their friendship again began when the actor accepted Thackeray's invitation to be a special guest at MNS Film wing's anniversary.
Yet again Raj Thackeray took out time to do something special for the actor on his 75th birthday. He posted few sketches of the actor which were made by him along with an article and we think this was the best gift that the actor had received on his birthday.
Check out the letter that the MNS chief had posted and the sketches that he had made for him.
"One tends to talk in superlatives when the topic of discussion is Amitabh Bachchan, and the occasion is his 75th birthday.
No debate that Amitabh Bachchan altered the style and content of Hindi Cinema, and set a new agenda for filmdom.
Again, no debate, that his roles re-defined the post 1970 Indian cinema and his legacy continues. He cast an abiding influence on generations of cinema buffs.
Many actors have, down the decades earned their spurs in cinema, making their mark and earning good popularity too. And sooner or later they have faded into the sunset.
However, Amitabh Bachchan still holds the sceptre. And how!
A couple of years ago I had differences with him over the issue of Marathi language. I still adhere to my views which I have made known to him
The truth of the matter is legends such as Lata Mangeshkar, Amitabh Bachchan and Sachin Tendulkar are not the brand ambassadors of a particular region or state. They belong to India.
But, I hasten to add that even when I differed with him, I had not a shred of doubt in my mind about his sterling contribution to cinema, his numero uno status as performer.
During the last four decades or so, Amitabh Bachchan has portrayed a breath-taking range of roles on the silver screen, and has brought to life a cavalcade of characters.
I have sketched his images on the occasion of his 75th birthday in an attempt to capture his unparalleled career and to showcase his changing persona.
This is a small gift from the artist in me to a thespian.
I hope you will like it.

Happy birthday, Amitabhji."
Happy Birthday Amitabh Bachchan!