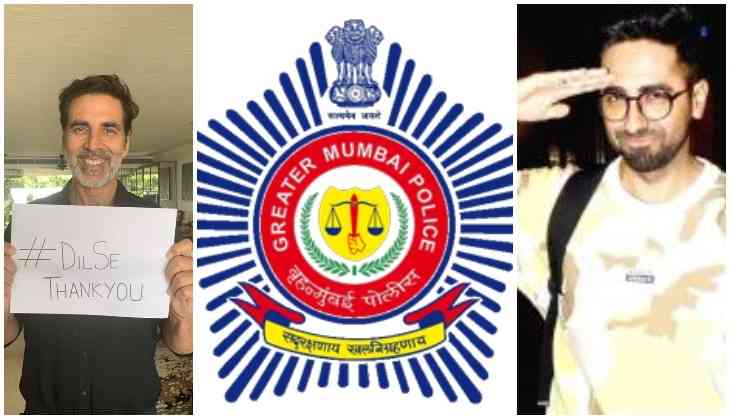 Akshay Kumar and Ayushmann Khurrana thank Mumbai Police
Coronavirus is taking a toll on India where over 5000 people have been reported positive among which 178 people have died. To curb the outspread of COVID-19 PM Modi announced lockdown for 21 days. Since today is the 16th day Mumbai Police took to their official Twitter handle to share a heartwarming video on police officers and asked them as to what they would have done during this 21 days lockdown.
In the video police officers said that they would have spent time with their kids, family, however, they have sacrificed all this just to save people in this outbreak of Coronavirus. After seeing this heart touching video Ayushmann Khurrana, Akshay Kumar thanked the police officers and doctors with the bottom of their heart.
Also Read: Toofan: Farhan Akhtar puts on 15 kgs in 6 weeks for sports-drama
Feel that the lockdown is just too long?

Guess what we would've done had we been home?#MumbaiFirst#TakingOnCorona pic.twitter.com/Ec80R6Cm1U

— Mumbai Police (@MumbaiPolice) April 8, 2020
Ayushmann took to his Twitter and wrote in Marathi, "Tumhala dhanyavad denyasathi mi nishabd jhalo ahe, parantu mi aaj tumhala hrudayapasun dhanyavad det aahe. Jai Hind! @MumbaiPolice @DGPMaharashtra "
Tumhala dhanyavad denyasathi mi nishabd jhalo ahe, parantu mi aaj tumhala hrudayapasun dhanyavad det aahe. Jai Hind! @MumbaiPolice @DGPMaharashtra 🙏🏻 🇮🇳#ThankYouMumbaiPolice #ThankYouMaharashtraPolice https://t.co/332AzvHgZQ

— Ayushmann Khurrana (@ayushmannk) April 9, 2020
While Akshay Kumar posted a video and wrote, Mere aur mere parivaar ki taraf se… Police, Nagar Nigam Ke workers, doctors, nurses, NGOs, volunteers, government officials, vendors, building ke guards ko #DilSeThankYou"
Also Read: Jaya Bachchan Birthday: Amitabh Bachchan thanks fans for wishes on wife's birthday
Name : Akshay Kumar
City : Mumbai

Mere aur mere parivaar ki taraf se...
Police, Nagar Nigam ke workers, doctors, nurses, NGOs, volunteers, government officials, vendors, building ke guards ko #DilSeThankYou 🙏🏻 pic.twitter.com/N8dnb4Na63

— Akshay Kumar (@akshaykumar) April 9, 2020
There's an army of people working day and night to keep us safe, our families safe. Lets together say #DilSeThankYou to them because that's the least we can do. @mybmc @MumbaiPolice pic.twitter.com/ANf1ynTP09

— Akshay Kumar (@akshaykumar) April 9, 2020
Meanwhile, Ajay Devgn also thanked Mumbai Police and in revert, they thanked Singham actor in filmy style. Taking to Twitter they wrote, "Dear 'Singham', Just doing what 'Khakee' is supposed to do to ensure that things return to how they were - 'Once upon a time in Mumbai'!"
Also Read: AR Rahman, Prasoon Joshi criticizes Sidharth Malhotra-Tara Sutaria's Masakali 2.0; asks fans to enjoy original version