Among the many B-town celebs who have come out in support of ' Dangal' girl Zaira Wasim, who issued a lengthy apology for 'hurting' people's sentiments, is none other than her onscreen father Aamir Khan.
The 51-year-old, on 17 January issued statement that begins, "I have read Zaira's statement, and I can understand and imagine what lead her to make that statement."
"Zaira, I want you to know that we are all with you," Aamir assured the 16-year-old star who played young Geeta Phogat in the movie.
"You certainly are a role model for me! May god bless you," he added before appealing to everyone to "leave her alone".
Zaira recently issued an out-of-the-blue apology through her Facebook and Twitter accounts for 'unintentionally hurting' those who were 'offended' by her 'recent actions or by the people she recently met'.
Later, she issued another note clarifying that the she had not been forced into apologising and requested everyone not to blow the matter out of proportion.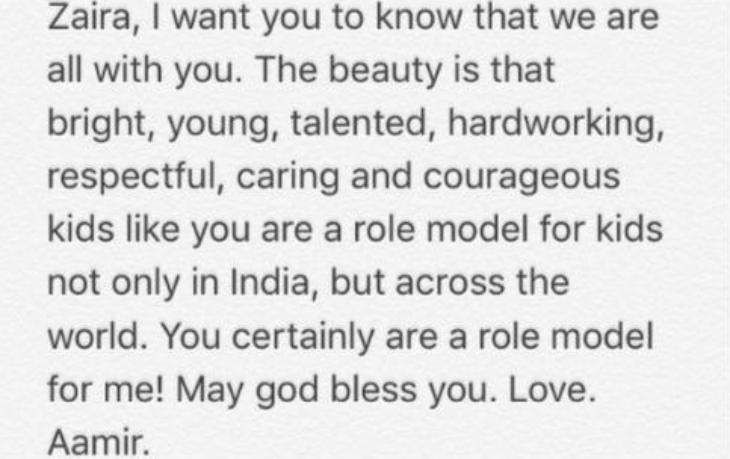 Though the reason for her apology is not very clear, it is, however, being speculated that Zaira posted this note after being trolled for meeting Jammu and Kashmir Chief Minister Mehbooba Mufti a couple of days ago and purportedly crediting her for her film's success.
Meanwhile, many celebs including Anupam Kher, Sonu Nigam, Javed Akhtar, have also taken to their social media handles to lend support to the young actress.
Olympian wrestler Geeta Phogat, during an interview with ANI, also came out in support of Zaira, asserting that the Kashmiri starlet must learn to ignore those trying to bring her down and continue to remain focused in her work.
-ANI