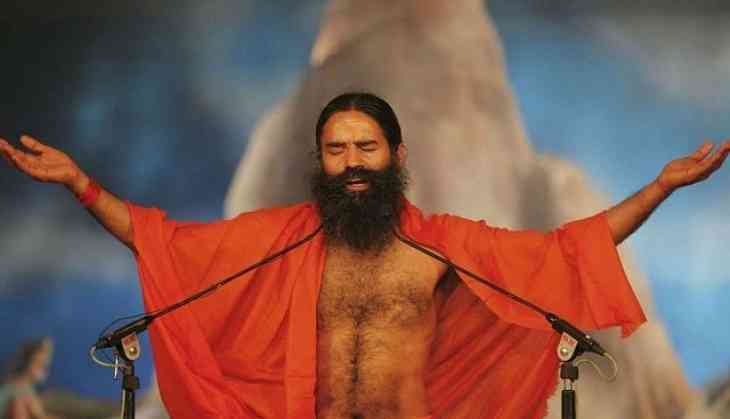 Swami Ramdev accidentally fell off an elephant while performing a Bhramari 'pranayam' on an animal's back. The video of the incident has made its way onto Twitter.
The incident occurred on Monday at Guru Sharanan's ashram Ramanarati in Mathura.
In the short clip, Baba Ramdev can be seen sitting on the back of the elephant and teaching a yoga asana to saints, who gathered at the camp.
See Video:
BREAKING: Baba Ramdev fell off from an elephant while doing Yoga on it, has sustained severe injuries in Spine, now admitted to Medanta Gurgaon.pic.twitter.com/1ec0IxFDLG

— Dr Nimo Chaudhary 🚩 (@niiravmodi) October 13, 2020
All of sudden, the elephant, which was standing still, started moving, which disturbed Ramdev's balance and he fell on the ground.
However, the yoga guru was not injured in the incident. He immediately stood up and laughed over the incident.
Meanwhile, the video of Baba Ramdev went viral on social media.
Check out comment:
Phootne layak ,sab phoot gyaa 😭😭

— Baba Rumdev 🥃🏹 (@HeeraTarantino) October 13, 2020
BREAKING: BREAKING SPINE @sardesairajdeep

— Ali Asgar kamdar (@Aliasga94197677) October 13, 2020
Baba Girpade😉

— Muslimah (@Muslima33549443) October 13, 2020
Ye to kuch bhi nhi hai humara GDP to aur bhi unchai se giraa hai

— Vampire (@Slayervampiree) October 13, 2020
He should fix his spine from yoga. Earlier he fell from cycle & now elephant. Newton's law is true (Einstein for piyush goyal).

— CeeJay Mascarenhas (@CeeJay7727) October 13, 2020
There is 51 crore square km land on Earth. But, still he sits on elephant to perform yoga. It's absolutely clear that yoga cannot develop your brain.

— Raj Singh 🏹 (@___rajsingh) October 13, 2020
Nothing happened to him, he is up and running, see the video😊😊

— Cdhar (@Cdhar7) October 13, 2020
Pehle salwar

Fir cycle

Aab haathi

Babaji ka luck..... pic.twitter.com/ak3xISq609

— LogicIndia (@india_logic) October 13, 2020
S K Tijarawala, Swami Ramdev's spokesperson also said that Baba Ramdev wasn't hurt in the incident and completely fit.
Also Read: Oh No! Woman's rope swing stunt goes wrong, falls badly in water; see viral video