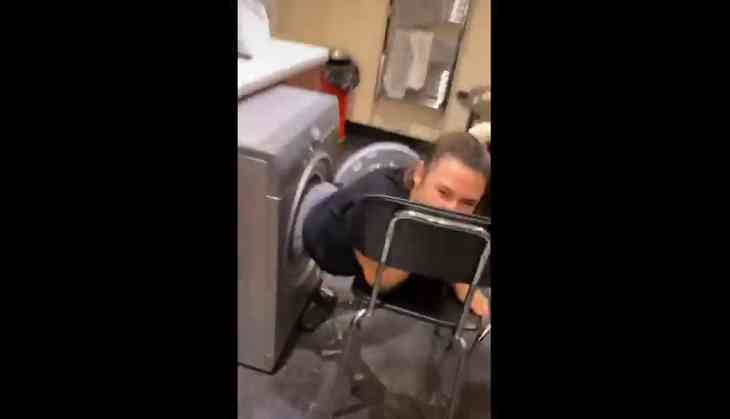 A 21-year-old British girl in an inebriated state got stuck inside a tumble drier. She did this after her friends dared her to do that.
In her drunken state, she thought, "Why not? There's no way I'd fit in there anyway."
Unfortunately, she got stuck inside the machine and then firefighters were called to the scene to rescue her. The entire ordeal was shared on TikTok and it has started gaining attention on social media.
Also Read: OMG! Woman left shocked after doctors find cyst full of tapeworm in her brain
The 21-year-old girl has been identified as Rosie Cole, who had drink a few glasses of alcohol with her housemates. Rosie's friends dared her to get inside the dryer in their shared accommodation. Cole also thought there was no chance she'd fit, but after wriggling her way in through the front door, she suddenly got stuck.
According to Wales reports, emergency services were called in to the bizarre scene at around 11 pm as the university student said they "save cats from trees" so maybe they would "save students from tumble dryers".
See Video:
October 2, 2020

As per Humberside Fire & Rescue Service, who rescued the girl said that Cole was released uninjured from the machine. In the footage, three firemen trying to pull her out after she got stuck in a particular position for more than 20 minutes. Before she pulled out the machine, Rosie was seen cheering in another video.
Before the rescue team reached the spot, Cole's housemates tried to pull her out of the washing machine, but because of the way her legs were folded up inside the machine, they couldn't pull out her. Probably doesn't help that she was drunk as well though," Cole's housemate Lydia Dunwell told The Tab.
Cole told Daily Star that as she tried to escape from the tumble dryer, the machine tipped forward and her housemates also tried to pull her but her toes got injured.
"They were lovely and they just laughed at me. When they were leaving they opened the washing machine and asked if anyone else needed saving," she added talking about firemen's response to the incident.
Also Read: Woman gets whopping amount just by selling pictures of her feet; know the bizarre reason