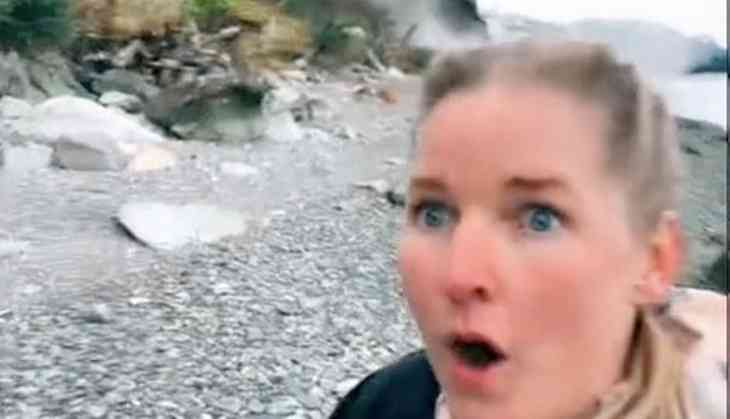 Woman Runs for Her Life After Landslide
A video of a woman TikToker running for her life after a sudden landslide has gone viral on social media. The incident took place in Alaska in the US on April 6.
Alana Davis was enjoying the view at a beach and making a video by the Douglas Highway near Juneau when she heard a noise coming from the rockslide.
She then looked shocked before she went up and run to a safe place.
Also Read: Teacher saves young student from choking to death; heroic moment caught on cam [Watch]
In the now-viral video, she can be seen showing the rockslide from where the noise was coming. The video also shows a cloud of dust emerging from the trees that line the road behind her.
After realizing that it is a landslide, she started running to safety and screamed for help.
She shouted and waved for help by saying- "Stop! Stop! Stop! Stop! Stop! Stop your car."
She shared the video on her TikTok account named thedirtyexplorer, which has been viewed 19.1 million times since it was uploaded on Sunday.
The video has gone viral on other social media platforms too.
Watch the video:
After the rockslide, the road has now been closed off. The Alaska Department of Transportation stated that a second rockslide began about 500 feet above the road and it is unclear when the road will be ready to be opened.

According to Alaska's Department of Natural Resources (DNR), rockslides are common in the state and the U.S. Forest Service has documented thousands of occurrences in Alaska's Tongass National Forest.
Also Read: Chilling Video: Angry dolphin attacks trainer during a show