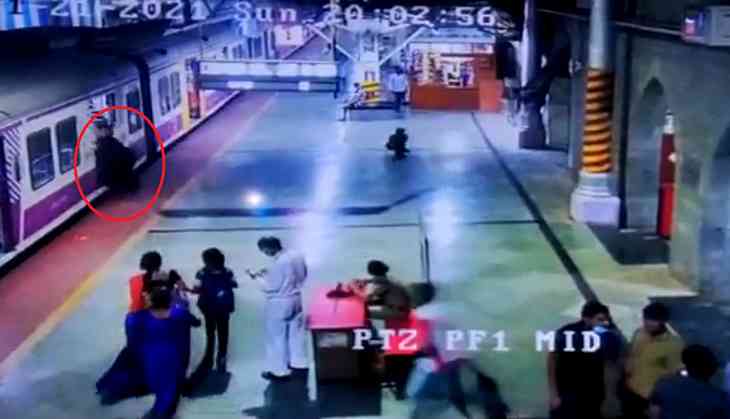 Woman slips while trying to board moving train
Indian Railways has warned passengers several times not to board or deboard the moving train. It seems like passengers don't take these warnings seriously. One such similar incident took place at Mumbai's Byculla railway station on Sunday night when a woman lost her balance while boarding a moving train.
The footage of the incident has gone viral on social media.
AlsoRead: Shocker: Passenger falls between platform and train; watch what happens next
However, the woman passenger was saved by a Railway Protection Force (RPF) woman constable named Sapna Golkar. In the CCTV footage, police constable Sapna, who was on duty at the Byculla railway station, saved the woman when she saw her losing her balance and falling from the train.
Sapna immediately rushed to the woman and pulled her away from the moving train.
Luckily, the 40-year-old woman didn't suffer any serious injuries. Reportedly, this is the second time in two months when RPF constable Sapna Golkar has saved a passenger.
The video was shared on Twitter by Central Railway and also by the Ministry of Railways.
Central Railways has applauded the woman constable for her courageous act.
Check out the video:
भायखला रेलवे स्टेशन PF-01 पर एक 40 वर्ष महिला करीबन 20:03 बजे चलती लोकल ट्रेन में चढने का प्रयास करते समय संतुलन बिगङने के कारण चलती लोकल से गिरते समय स्टेशन पर तैनात ऑन डियुटी महिला आरक्षक सपना गोलकर द्वारा उक्त महिला यात्री की जान बजाकर सराहनीय कार्य किया गया । @RailMinIndia pic.twitter.com/EqX2vMUu0A

— Central Railway (@Central_Railway) November 21, 2021
The Ministry of Railways has urged passengers not to board trains while they are moving because it can be fatal.
The viral footage has been viewed 12.8k times and has grabbed over 600 likes on the microblogging site.
Netizens are hailing the RPF constable for her quick action.
"Good quick response, god bless that police lady constable," a Twitter user wrote in the comment box.
Another said, "Great job but require permanent solution of this kind of incidents. Like automated door"
Also Read: Pregnant woman slips while trying to deboard moving train; horrifying visual caught on camera