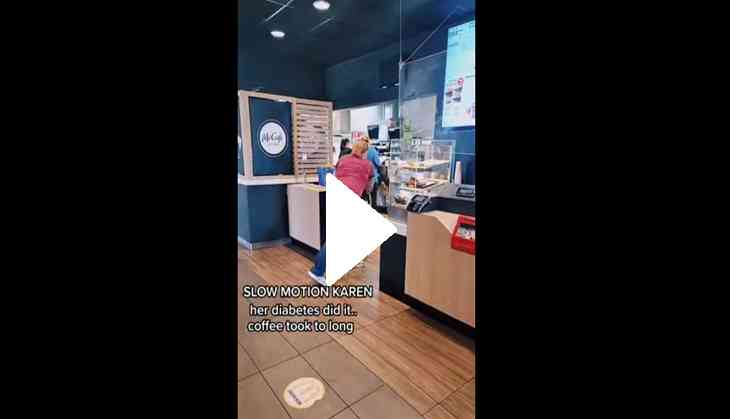 Screenshot from the viral video (Source: YouTube, Viral Hog )
Many people lose their cool while waiting for orders in the queue at a restaurant. Some started screaming at staff while some vandalized the property in anger. Recently, once such similar incident was reported at a McDonald's outlet located in Arkansas, USA.
A woman at a McDonald's outlet created a ruckus after she has to wait for a long. However, she was asked to wait for five minutes as per the coffee machine's time, instead of waiting for her order, the woman became impatient and threw the food trays and table numbers onto the floor.
Also Read: catchnews.com/bizarre-news/omg-woman-s-hair-catches-fire-while-working-in-kitchen-video-will-give-you-chills-223904.html
The video of the whole incident has gone viral on social media.
Watch Clip:
In the video, the woman can be seen yelling at the staff, and then she started throwing things inside the outlet.
After her rude and indecent behavior, one of the staff members told her that she will be reported to the police. The woman replied that she is a diabetic patient and her low blood sugar made her react this way. The high-voltage drama was recorded by a fellow customer, who later shared it on social media.
Also Read: Angry woman crashes her sister's job interview, thrashes her brutally; reason will shock you
Meanwhile, the video has been viewed over 1.1 million times. Later, the clip was also shared by ViralHog on YouTube.
Netizens also left shocked and surprised after watching the behavior of the woman.
What's your reaction to this video?
Also Read: Man kicks woman down escalator; shocking footage goes viral