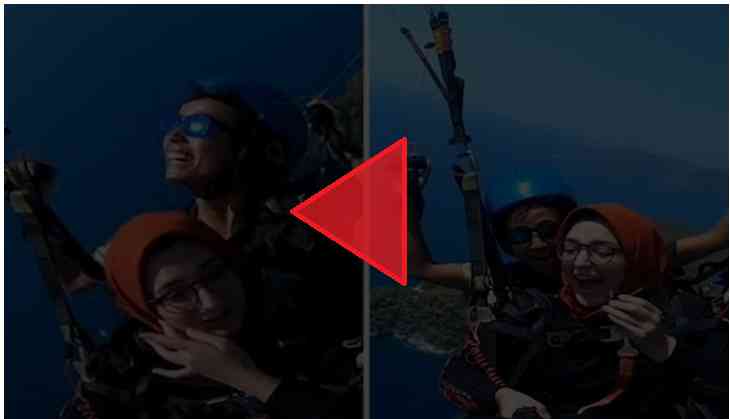 Woman enjoying paragliding in Turkey ((Image Source: YouTube))
An amazing video of a woman enjoying paragliding in Turkey has surfaced on the Internet. In the video, the woman is seen living in the moment and also rejoicing the beautiful view from the heights.
After a few seconds, she lost her sunglasses and then some miracle happened to her.
The video was uploaded on a YouTube channel named Zenger. Reportedly, the woman named Tuba Turkseve went for tandem paragliding along with an expert instructor named Aysenur Katirci.
In the video, the two women were seen flying over a village called Oludeniz in Turkey. Katirci was flying down straight while Tuba was having great fun. Just then, Katirci did some acrobatic stunts due to which the duo going around in a spiral.
Also Read: Man sends drone over erupting volcano; what it captures will blow your mind!
During this stunt, Tuba lost her sunglasses but she found her shades miraculously in her lap only.
It wasn't until that moment that she even realized they were missing.
See video:

She then put her sunglasses back on her frame. Stunned, both women erupted in laughter as they descended slowly toward the golden beaches below.
"It was unlikely the falling object would meet us at the same point," said paragliding instructor Aysenur Katirci, who was on a tandem flight with Tuba Turkseve over the resort village of Oludeniz in the southwestern province of Mugla, Turkey.
Katirci, who has been working as a professional tandem paraglider pilot since 2015, revealed that the incident was recorded in 2019 but it went viral last week when she posted the video online.
"I have never encountered such a strange incident before. It was a complete coincidence, a one in a million," she said.
Meanwhile, the video has gone viral on a social media platform and also garnered 136,885 views on YouTube.
Also Read: Man sings AR Rahman song while enjoying paragliding; video goes viral