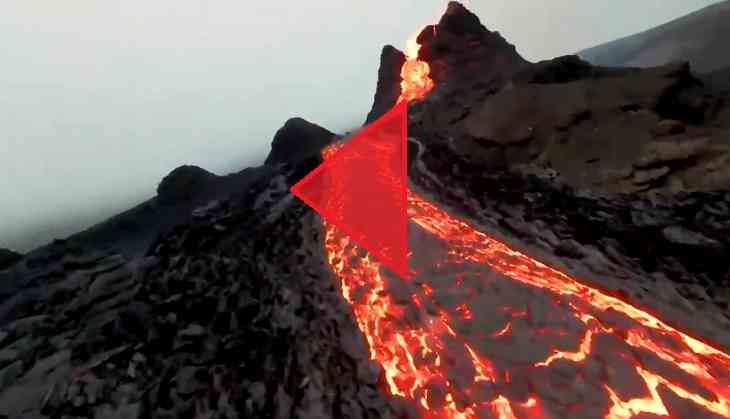 A video of a volcano eruption near the Fagradalsfjall mountain in Iceland has gone viral on social media. The stunning visual was captured by a drone which was sent by a drone photographer, Bjorn Steinbekk to capture the rare scene.
The Fagradalsfjall volcano is situated around 40 kilometers west of Iceland's capital Reykjavik. The volcano erupted on March 19 and due to the eruption the red lava spewing out of the ground and a no-fly zone was also established in the area.
According to the Iceland Meteorological Office (IMO), the eruption began at 08:45 pm GMT on March 19 after thousands of small earthquakes hit the area in a few recent weeks.
Also Read: This optical illusion house will leave you scratching your head
Despite, no-fly zone, Bjorn Steinbekk took advantage and sent his drone extremely close to the mountain where the red hot lava was oozing out slowly. The drone of Steinbekk captured the spine-chilling moment that you might not have seen before.
He uploaded the video on Twitter and captioned it as, "Seems like my video went full throttle! More on my YouTube channel"
See video:
Seems like my video went full throttle! More on my YouTube channel pic.twitter.com/RzrRniXxPu

— Bjorn Steinbekk (@BSteinbekk) March 22, 2021

Surprisingly, the drone of Bjorn Steinbekk was also in good condition and no scratch was found on it.
Bravo @BSteinbekk
Congrats @DJIGlobal

Bjorn flew his #DJI FPV drone streaming directly over this erupting Fagradalsfjall volcano and the lava the near Iceland's capital, Reykjavik.pic.twitter.com/atOwILHAX6pic.twitter.com/RV40ZrHdw0
.@5_News

— art (@art2i) March 22, 2021
Steinbekk also told DP Review, "To be honest, I simply decided to give it full power and see what would happen. Worst case I would lose a drone, best case, get this amazing footage."
How do you feel after watching the video? Comment on our social media pages...
Also Read: Lioness tries to attack buffalo in this viral video; what happens next will surprise you