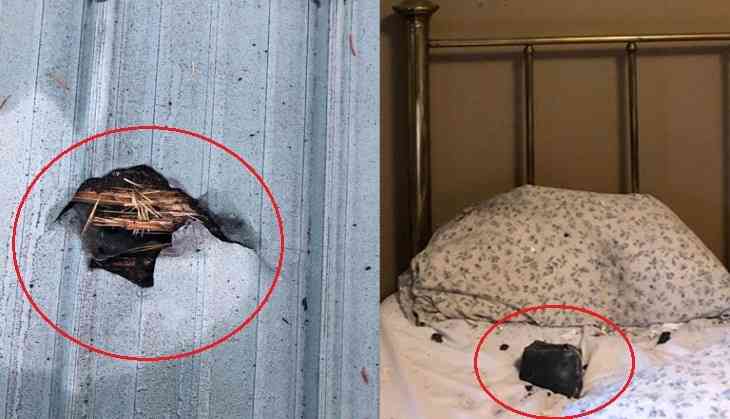 Meteorite crashes through woman's roof (Image Source/ Giselle Roeder's Facebook)
A woman in Canada was left petrified after a meteorite crashed through her roof and fell on her bed when she was sleeping.
The scary incident took place on October 3 in Golden, British Columbia, Canada around 11:50 pm.
The woman named Ruth Hamilton (66) narrated her horrific experience during an interview with CBC News.
Also Read: OMG! Man's hulk phone cover saves his life after bullet fired at him
She said, "The next thing was just a huge explosion and debris all over my face. I jumped out of bed and turned on the lights. I didn't know what else to do, so I called 911."
When police reached the spot, they found that the rock had not ended up at her house from the ongoing construction in the Kicking Horse Canyon but it was a meteorite that had entered through her roof.
Luckily, Hamilton wasn't injured in this bizarre incident as the meteor landed next to her pillow.
However, she intends to preserve the rock for the foreseeable future. She claimed that her grandchildren will find it amusing.
Thankfully, the damage caused to Hamilton's house roof will get covered by the insurance company only after examining if roof holes caused by space debris are covered or not.
She further expressed gratitude by saying that she will never take her life for granted, according to Victoria News.
Also Read: Girl gets hair cut with a meat knife; hilarious video goes viral
Isn't horrifying experience?