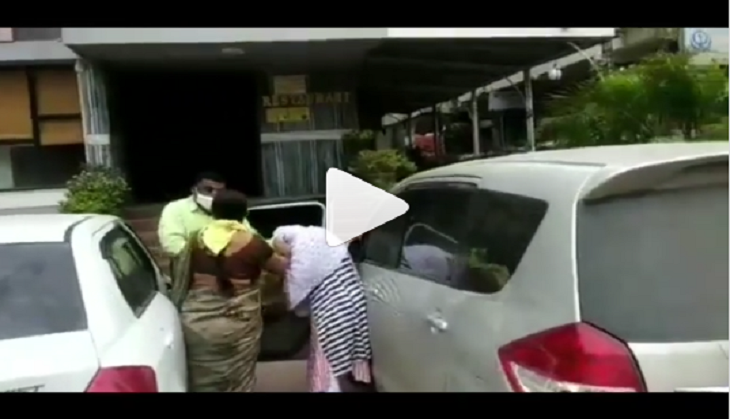 Screenshot from the viral video
In a shocking incident, a wife caught her husband red-handed with his girlfriend. The video of the incident has gone viral on social media. In the video, a woman can be seen running towards a car parking outside a hotel.
As soon as she reaches the car, she starts beating another woman in front of her husband.
While the face of the alleged girlfriend is covered in a dupatta, which the wife tries to remove. The woman also heard asking her husband about her. However, her husband didn't answer his wife and he tries to protect his girlfriend from his wife.
Also Read: OMG! Groom faints after kissing his bride; video goes viral
The video was shared on Instagram page, Giedde along with a caption, "Aurangabad - Sabko bahar ki biryani khani hai. Ghar ka dal chawal nahi khana . Aisha kyu"
See video:
In the video, the man and woman can be seen sitting in a car when the woman catches her husband red-handed with another woman.
As the high drama unfolded in the city, the incident was recorded by many people. Since the video being shared on social media, people slammed the woman by saying that she should have first asked the question to her husband before beating the woman.
A user wrote, "Instead beat your husband first". "Har patni ko lagta es kalmuhi ne hi kuch jadu tona kiya h , mera pati to devta h😂, usko pito bhai," another commented.
One of the netizens wrote, "Dhokhebaaj husband....usi ko maarna chahiye"
What's your view on this viral video?
Also Read: Groom surprises bride during varmala ceremony; video will make you fall in love!