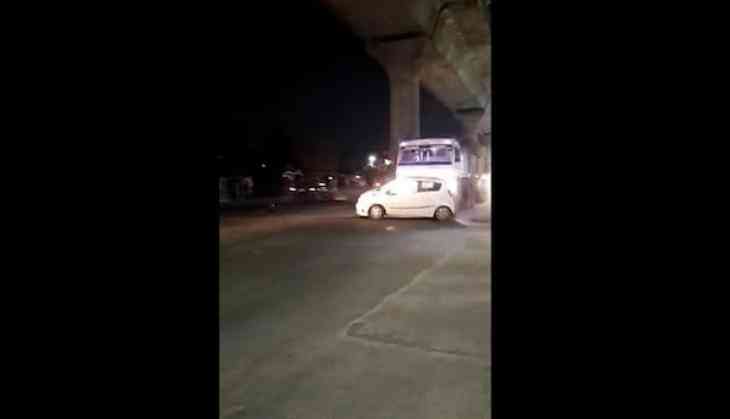 Drunk bus driver hits several vehicles.
In a shocking hit-and-drag incident, a car was dragged by a bus for almost three kilometers following a crash between the two. The accident was reported from Uttar Pradesh's Meerut.
As per the details, four to five people were present inside the vehicle at the time of the accident and got away unharmed.
A video of the incident, showing the bus dragging the car, has gone viral on the internet.
Eyewitnesses of the accident said the bus driver, while dragging the car, collided with a second vehicle, after which he tried to flee from the spot. He, however, was caught by the police.
Here's the video:
Truck driver's revenge after men in car allegedly Insulted him - Meerut, UP.pic.twitter.com/u7Ls4Y6FAH

— Mihir Jha (@MihirkJha) February 12, 2023
One of the occupants of the car, identified as Anil Kumar said the bus driver had hit many vehicles. Anil said his car was dragged away when he had stepped out to confront the bus driver.
In the meantime, a policeman deployed at the Partapur Police Station said the bus driver, identified as Amit, was under the influence of alcohol at the time of the accident.
The bus driver was arrested on the spot and his bus was confiscated.
The bus was travelling towards Delhi at the time of the accident, the police official said.
Also Read: Flight makes emergency landing after flames shoot from wing [WATCH]