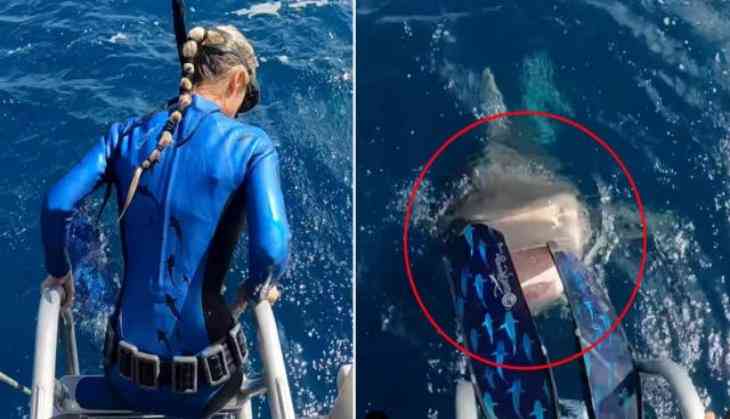 Lady scuba diver almost leaped into shark's open mouth.
Scuba diving is considered to be one of the most amazing recreational water sports. Irrespective of age, everyone can enjoy this underwater activity with proper gear.
However, this underwater adventure can become dangerous sometimes. While the proper gears can help to survive underwater, the threat from dangerous aquatic animals cannot be dismissed.
If you love this adventurous water sport, you must be aware of the threats. But, have you ever come across any such situation?
Here we have one such video that will scare you downright.
As seen in the clip, a lady scuba diver is seen sporting the proper gear required for adventurous water sports. The girl steps down from a boat.
As soon as she gets to the water's surface, the diver bends down to take a leap into the water. However, she stops and steps back quickly.
Take a look at the video:
Whoops 😱 pic.twitter.com/lY6j9X6LNq

— Daily Videos (@DailyVideosOnly) February 16, 2023
The whole situation was caught on camera by a person standing behind the diver. Suddenly, a huge shark swims up to the water's surface and opens its mouth. By then, the girl climbed back to the boat but the event was captured on the camera.
The video shared on Twitter by Daily Videos has scared several netizens as well. Fear of the users is quite evident from their comments.
Also Read: Viral Video: 19-year-old dancing at wedding collapses, dies