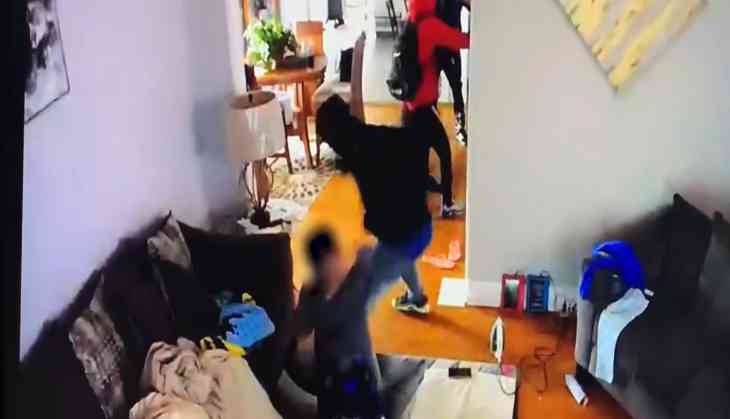 A 5-year-old boy has been hailed for his courageous act after a gang of armed robbers invaded his home and attacked at his mother.
The CCTV footage of the incident has been widely circulated on social media. In the video, the little boy can be seen defending his mother from robbers who entered their home forcefully.
The armed robbers were wearing full-length hoodies, while the young boy named David Johnson and his mother Tamika Reid left shocked by the sudden entry of the gang.
Within a few seconds, one of the robbers held Ried at gunpoint and forced out of the room by the other men.
As Tamika went to the next room, her son started resisting the robbers and tried to pull one of the men by his hoodie. Johnson also threw his toys at the men when his mother was still being held at gunpoint.
However, the men didn't point their weapons at the boy but only tried to make him scared.
See Video:
Following the incident, Tamika told a local news channel that their son reacted to the situation like a hero. "What you seeing was me ironing our clothes, getting our clothes, ready to start our day. You would hear me saying, 'what is that?'" Tamika told WSBT.
"My thing was I need to get him out of the house before they do something to my son," she added.
Fortunately, the mother and the son were not harmed in the incident, but robbers are still at large.
Meanwhile, the police have launched an investigation to nabbed the gang of robbers and are also trying to find out the motive behind the invasion.
"No little boy, nobody, in general, should have to go through something like this so it's really important we get those who are responsible for this heinous crime off the streets," said Christine Karsten, South Bend Police Media Liaison, in a statement.
Also Read: Caught on Cam: Man attacks 60-year-old man, snatches his Rolex watch worth Rs 5 lakh