A mass crowd of people suddenly started gathering on a road in Hong Kong outside a flat. Well, in the flat a man was intimating with his partner and people gather to enjoy the live telecast. The activities of the duo inside the flat were seen as clear through the window, that crowd gathered there to see. In the meantime, people also started making videos of them intimating on their cellphones.
There was something shocking that caught their eyes and kept the consciousness of all the people standing there. The window of the flat was towards the road, and there was no curtain, due to which the entire view of their romance in the room could be clearly seen.
It was clearly visible that the man who was completely naked and was romancing with his partner, although his partner was not able to be seen. However, the people standing on the road were excited to see a man's partner.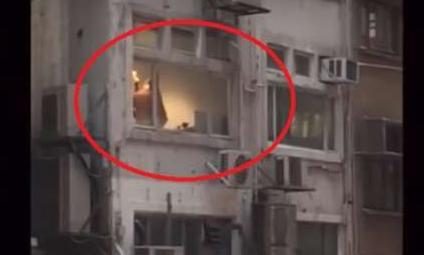 Shortly after that, the man stood up and people were waiting for his partner to stand up. But as soon as they saw his partner, they were left shocked. Actually, the man was gay and was having a relationship with a man. The video of this whole incident has gone viral on all social media platforms such as Facebook, YouTube.
Also read: Shocking! Daughter performed mother's funeral via video calling in Maharashtra's Palghar; received ashes by courier