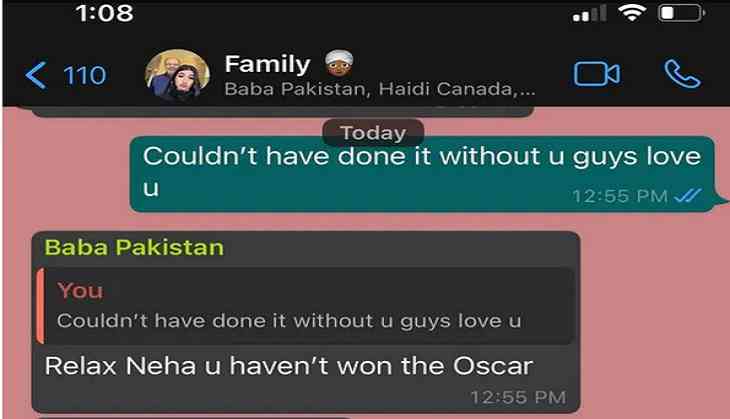 Oh No! Father gives hilarious reply to daughter after she gets a new job
Fulfilling all dreams of parents is not an easy thing to do. However, many parents satisfy with what their children have done for them while some parents won't get happy easily with their child's success. One such random girl has felt the same when her father didn't express happiness after she got her new job.
A Twitter user Neha (@ughneha) shared a screenshot of her family's group chat. Neha hails from Toronto, Canada. In the message, she told her father that she got a new job and what her father replied is really bizarre.
She wrote captioned her post, "told my dad I got a new job and this is his response?"
In the screenshot, Neha shared the news about her new job and thanked her family, saying, "Couldn't have done it without you guys, love you."
Also Read: Horror! Alien like creature walking on road at night; video goes viral
On this, one can expect that your parents to congratulate you on your new beginning. But, Neha's father had an out-of-the-blue reaction. He said, "Relax Neha, you haven't won the Oscar."
Meanwhile, this conversation between father and daughter has gone viral on social media. the tweet has garnered over 4.3 lakh likes and over 32,000 retweets.
Many users also shared their stories relating to Neha's situation.
A user wrote, "Are you telling me dad's respond with stuff other than 'ok'."
"And then they brag their kid's unappreciated success in their circle till the doomsday," another user commented.
A third user posted, "They feel proud inside but there's something about showing it openly."
What's your opinion about this father and daughter hilarious conversation?
Also Read: Woman orders chicken for her son; what she receives will make you angry!