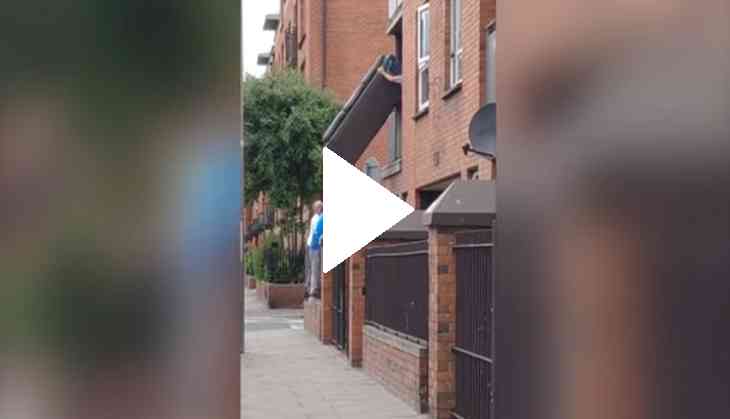 Men take sweeping brushes to get sofa out of house's upper storey window
Shifting home from another is not an easy task. Moving furniture of the house is just like a herculean task which one can't do alone. Sometimes one has to apply some bizarre techniques while moving house.
One such hilarious video has surfaced on the Internet which will surely make you go crazy.
The incident happened in Dublin, Ireland, and it was filmed by an onlooker named Cillian, uploading under the name @cillian_gc. In the video, three men were trying to get a sofa out of the house through a window after presumably failing to take the furniture out of the main door.
Also Read: Delivery driver accidentally throws parcel onto roof of customer's home; know bizarre reason
The video shows a man standing at the window who can be seen lowering the sofa towards the ground while two other men are seen standing on a low wall outside the house to catch the sofa. Two men have taken the sweeping brushes to support the sofa to land it safely to the ground.
Watch video:

However, viewers were unable to find out whether their technique helped in getting out the sofa from the window.
The video was shared on a YouTube page called News Flews. Netizens loved the technique of the men while some said that it would have been easier if they unscrew the sofa.
One of the users said, "Masters at work, hopefully, it was successful!" Another posted, "That was actually pretty fantastic." Yet another commented, "It would have been easier to unscrew one of the arms off."
What do you think about the video?
Also Read: OMG! Woman's hair catches fire while working in kitchen; video will give you chills