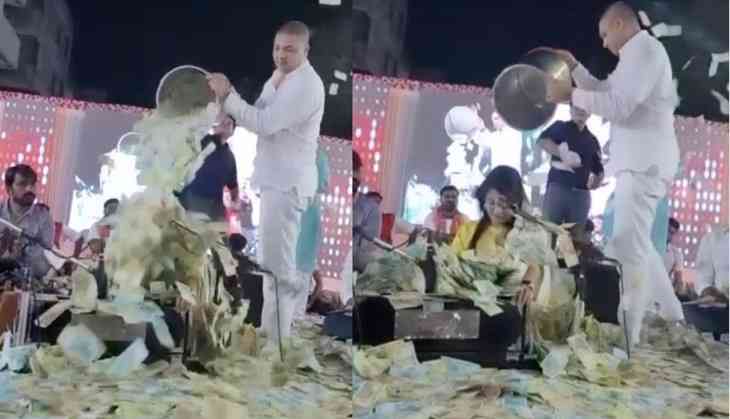 Man showers bucket full of currency notes on this singer
Have you ever seen money rain? If not, then this viral video will leave you stunned. In the video, a Gujarati singer can be seen playing the harmonium and suddenly a man walks up along with a bucket full of Indian currency.
The video was shared by the singer named Urvashi Radadiya on her official Instagram account.
The incident took place in Ahmedabad on the occasion of Tulsi Vivah which was celebrated on November 15.
Tulsi Vivah is the Hindu festival which is a ceremonial marriage of Tulsi and Lord Vishnu.
Also Read: Pre-wedding photoshoot goes horribly wrong; know what exactly happened
In the viral video, other people can also be showering money on the Gujarati singer, Urvashi Radadiya. At one stage, Urvashi's harmonium is also filled with money, however, she continued with her singing after clearing the instrument.
Urvashi expressed her gratitude to the public for the love. She shared the video along with a caption that reads, "money rain".
Watch Video:
Ever since the video went viral on social media, the video has garnered over 14,000 likes. Netizens also applauded the singer for her performance. While many people asked what she will do with the money.
For the uninitiated, Urvashi is a famous singer in the Gujarati music industry. She has sung various superhit songs like 'Dwarika', 'Bhav Na Fera', 'Kasumbi No Rang', among others.
Also Read: Woman falls from swing while getting photoshoot done in saree; hilarious video goes viral