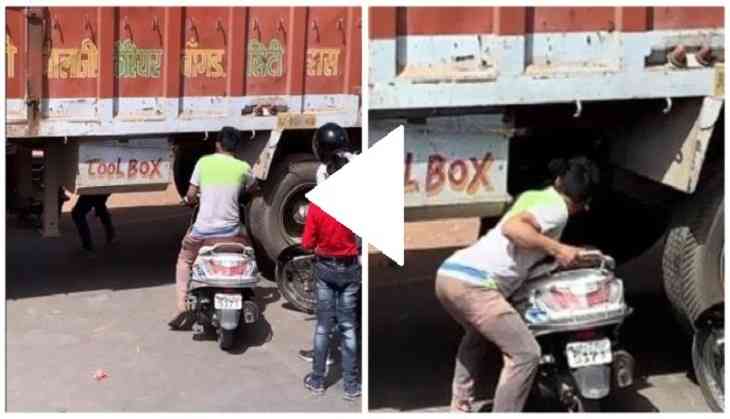 Viral Video of Indian Jugaad ((Source: Instagram))
Viral Video: Internet is full of hilarious things that have made us laugh. For your daily bizarre dose, we have brought a funny video that will tickle your funny bones!
In the viral video, a man along with his scooter tried an Indian jugaad to get himself out of a traffic jam.
A user named itz_saini_vimal shared the video on Instagram with a caption, "Heavy driver".
Also Read: 'Yamraj' on Railway tracks! Western Railway finds hilarious trick to stop people from trespassing
In the clip, a truck can be seen parked on the road which caused traffic. In an attempt to get out of the traffic, the man can be seen walking from under the truck. The more hilarious drama came when another man with his scooter decided to follow the same thing to get out of the traffic.
The video showed the man with a scooter pulled his vehicle from under the truck which has blocked the path.
In the background of the video, a famous meme song titled 'Bete mauj kardi' was also added by a social media user.
Click here to watch the full video
However, the location of the video is unknown. The video has been widely shared on social media and it has garnered over 11.91 lakh views. Many users were got worried after watching the dangerous act. While some users called it man's jugaad.
Such kind of stunts has been witnessed at the crossing railway tracks. However, it is definitely a risky thing which one should not try under any circumstances.
What do you think about the viral video?
Also Read: Woman changes dress in blink of an eye during dance performance; netizens ask 'How?'