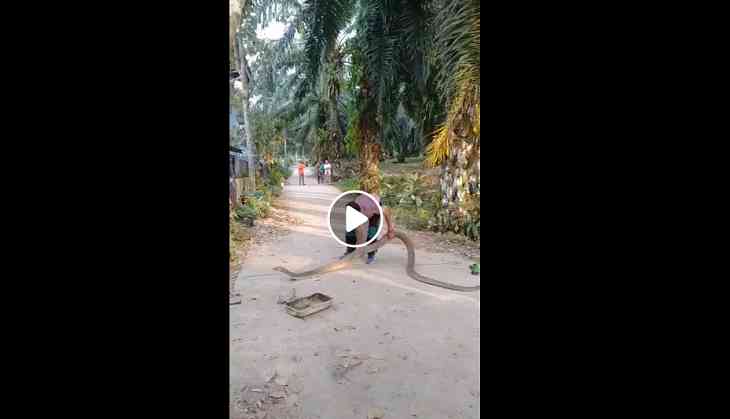 Screengrab of the viral video
A dramatic incident took place in Thailand where a volunteer worker tried to catch a massive snake with his bare hands.
The footage of the horrifying incident also went viral on social media. According to the news website Thaiger, the locals in the Thai province of Krabi informed authorities about the presence of a huge king cobra into a palm plantation and tried to hide in a septic tank.
The video was shared on Facebook which shows the man capturing the king cobra.
Also Read: Man tries to rescue king cobra; what happens next will shock you!
Reportedly, the giant snake has been measured 4.5 meters (nearly 14 feet) and weighed over 10 kilograms.
The snake was captured by a man named Sutee Naewhaad (40) who is a volunteer with the Ao Nang Subdistrict Administrative Organisation. He took around 20 minutes to capture the snake.
The video shows the 40-year-old man first lured the snake out onto an open road and then he tried to catch the king cobra.
Somehow, Naewhaad managed to capture the dangerous snake and then safely released it in its natural habitat after being caught.
According to local reports, the snake catcher told that the snake had probably been looking for its mate, as another cobra had recently been killed by locals.
He also asked other people to remain cautious while trying to catch snakes, saying that he became a professional with years of training.
According to reports, one of the largest king cobras was also captured in Thailand, which has a sizeable population of snakes.
Also Read: Cobra enters woman's house; what she does next will amuse you!