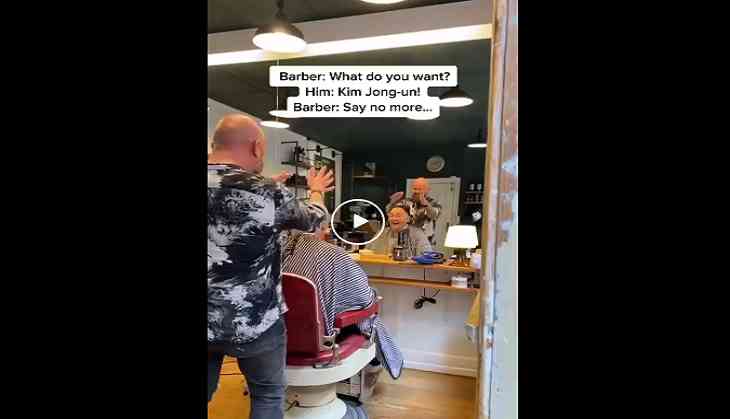 Man gets Kim Jong-un haircut
North Korean leader Kim Jong-un became the talk of the town for his uncanny transformation. Social media was flooded with several comments as netizens were amazed after seeing him.
Chairman Kim Jong Un Celebrates 73rd Founding Anniversary of DPRK in a Parade (TODAY) 🇰🇵 pic.twitter.com/LiI9nCSsCJ

— President Kim Il Sung 🇰🇵 (@KimIlSungDPRK) September 9, 2021
Now, a video of a man asking a barber to give him a North Korean dictator's haircut has gone viral on social media.
The video was shared on Reddit which shows the amazing transformation of the man after his barber gave him a new haircut.
Barber funny reply to the man- Say no more," the video said.
After seeing a successful haircut, the barber and the man shared the laughter. The video was shared with the caption read, 'Kim Jong Un Style Haircut'.
Meanwhile, the video of the man resembling Kim Jong-un has stumped social media users.
The clip has garnered over 40k upvotes on Reddit.
The amused netizens wrote several hilarious comments.
"Gotta watch his back now lol. A sniper might mistake him for the real deal," one user said.
Another said, "Wonderful decoy! Kim should hire him."
Do you also think that Kim should hire him as the decoy?
Also Read: News Blooper: Fire extinguisher explodes in news presenter's hands; horrific moment goes viral