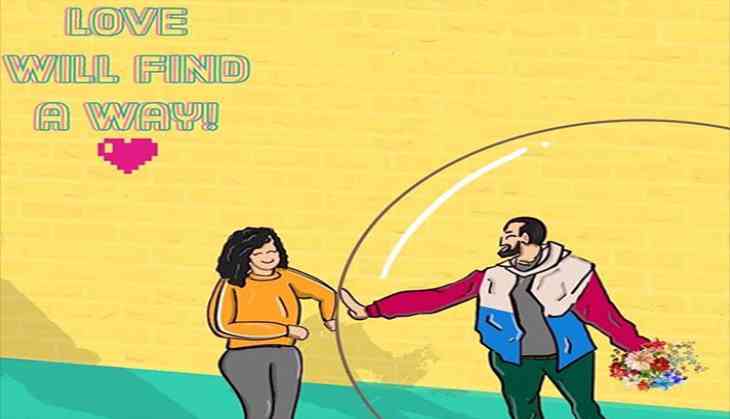 Man uses drone to propose his neighbour
As people are sulking due to the lockdown however they are few people in the world who are using this time and making it's every minute happening. Recently a video is going viral which has blown the netizens mind as he has found a very innovative way to propose his girlfriend who lives a few streets away.
As people are lockdown at their homes so they are having a tough time to meet or approach people, however, this freelance photographer who lives in Brooklyn has found an innovative way to approach the girl he likes. The man identified as Jeremy Cohen noticed a woman dancing on her rooftop across the street from him on Saturday afternoon.
Also Read: Banker uses steam iron to disinfect cheque given by customer amid COVID-19 fear; Anand Mahindra hails him
He found the girl nice as a person so he decided to try to reach out, he stepped out onto his balcony and waved at her. The girl then noticed him and waved him back and then they shouted a few things back and forth. However, being so far from each other they couldn't talk properly.
So Cohen came up with a creative idea, he took out his drone and attached a note with his phone number onto it. He then sent it over to his neighbour's roof and guess what about an hour later he received her text.
Check out the video below:
I can't believe this actually worked and yes this is a real story pic.twitter.com/X5KbBl0qIe

— Jeremy Cohen (@jerm_cohen) March 22, 2020
Well, their story doesn't end here the girl identified as Tori Cignarella, a hospitality worker, asked him out for a rooftop dinner but from the distance of course.
Also Read: Wow! Fitness trainer dances with residents outside their homes amid lockdown; video will shake your legs
Not just this they also went out on a walk together but in quarantine avatar. Here have a look at the video below:
He shared this whole story through a video on the TikTok and later the video got completely viral to Twitter and Instagram. This video has garnered immense viewers and people are crushing on the video.
Also Read: Coronavirus lockdown: This is how netizens killing their boredom during quarantine; you can also try