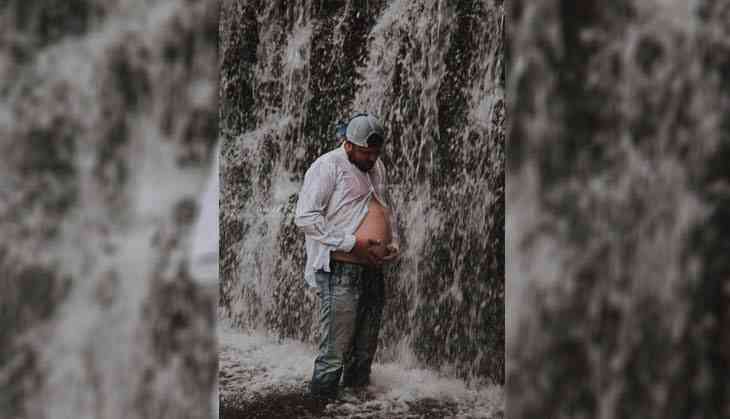 A pregnant woman got disappointed after doctors advised her bed rest just a few weeks before her maternity photoshoot was scheduled. Her dreams were faded after this medical advice from her doctors.
Kudos to her husband who keep the momentum going and made her wife feel special during her tough time. He has given a hilarious surprise to his wife that she had never imagined and brought a big smile on her face.
Kesley Brewer from Kentucky was told to take complete bed rest before her delivery date. To surprise Kesley, husband Jared found the extremely amusing idea that made her upset wife feel happy.
Jared poses for the maternity pictures that his wife has to do. He replaces her and poses for the photoshoot.
In the pictures, Kesley's husband can be seen exposing his belly and mimic various poses in front of a waterfall at Elkhorn Creek in Frankfort, Kentucky.
Interestingly, Jared also posed the popular pose in which a pregnant lady used to make a heart sign on her belly.
Can't believe us?
Check out the different poses that Jared posed for her pregnant wife:
Kesley also thanked her husband for his support and she also wrote, "My husband has been a total rock through this whole process and even managed to get with my sister to take these AMAZING PHOTOS! That I will literally cherish for the rest of my life!! Thank you so much Kiana Whitney Smither for capturing these images of my amazing husband! I can't wait to watch you work your magic once our sweet boy is here!"
Meanwhile, the photoshoot has gone viral and has garnered over 50,000 likes and has been flooded with comments. Netizens are applauding Jared for his love that he showed by fulfilling the desires of his wife.
Also Read: Insane! Woman climbs inside lion's enclosure, dances in front of wild animal; netizens call it so scary