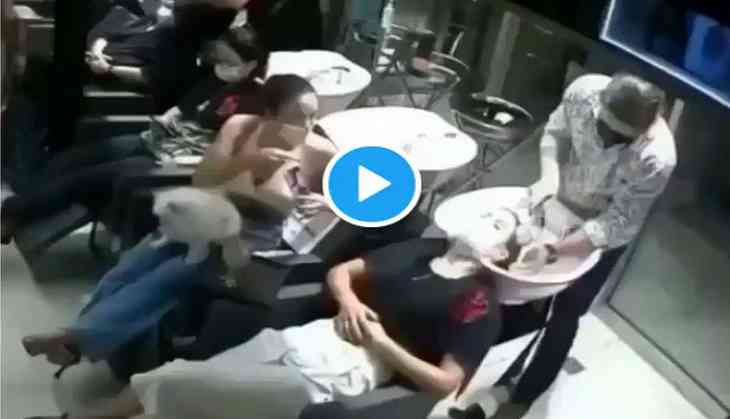 Screenshot from the viral video
A video of a hairdresser getting angry at a woman has surfaced on the Internet. In the viral clip, a woman can be seen getting her hair washed at a salon. However, she was continuously talking to her friend due to this the hairdresser won't be able to do his job.
The hairdresser tried to stop the woman from moving her head as he was washing her hair. But, the woman didn't listen to him and kept moving her head from the basin to talk to her friend.
The frustrated hairdresser again pulled the woman's head down into the basin and she said sorry to him. But, again she started moving her head and disrupted the hairdresser's work.
Also Read: Oh No! Groom's friend gives embarrassing gift to bride; what happens next will leave your mouth
He then put her head down a bit aggressively.
Even after several warnings, the woman again started talking to her friend sitting on the next chair, the hairdresser lost his cool and sprayed her face with a showerhead. The water got into her eyes and all over her face.
Check out the viral video:
He can only take so much. pic.twitter.com/w7AGGX9nG7

— Jamie Gnuman197... (@Jamie24272184) July 4, 2021

The viral video has garnered over 6 million views on Twitter and received over 29k retweets and 127k likes.
The video prompted mixed reactions from online users. Some users slammed the hairdresser for his unprofessional behavior. While many users didn't like the behavior of the woman by calling her rude as she was not allowing the hairdresser to do his job.
Also Read: Man offers seat to girl in metro; what happens next will surprise you!