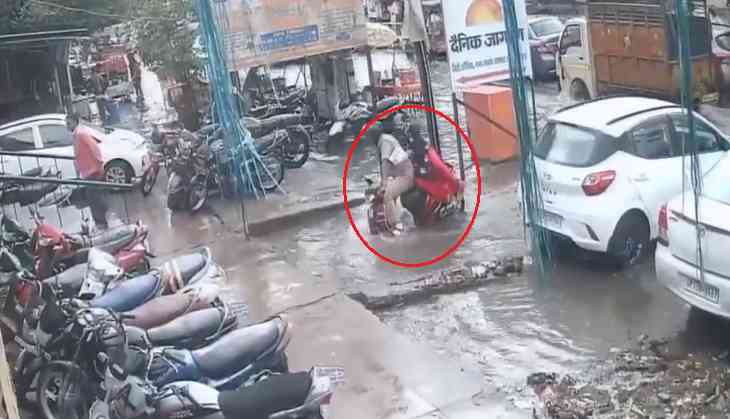 Screenshot of the viral video
A horrifying video of a couple on a two-wheeler falling into a water-filled pit has surfaced on social media.
The incident took place in Uttar Pradesh's Aligarh.
The CCTV footage of the incident was shared by journalist Piyush Rai on Twitter along with a caption, "Visuals from UP's Aligarh. Leaving this here.
Also Read: Woman falls into manhole while talking on phone; shocking video goes viral

The horrific incident took place when the middle-aged couple reached near the shop where they have come for some work.
Luckily, both the husband and wife were immediately rescued by the locals, who saw them in the pit.
Visuals from UP's Aligarh.

Leaving this here. pic.twitter.com/bOhACL96IW

— Piyush Rai (@Benarasiyaa) June 18, 2022
According to Piyush Rai, the person who was riding the scooty is a UP Police personnel. He was going with his wife to visit the doctor when the accident happened.
The victim is a UP cop and his wife. The couple was visiting a doctor in the city when the incident happened.

— Piyush Rai (@Benarasiyaa) June 18, 2022
As per reports, the woman suffered internal injuries while the man suffered minor injuries.
Meanwhile, the video has garnered over 8.5 lakh views on Twitter. Netizens were also left shocked after seeing the video while many showed their concern for the couple.
One of the users said, "You should have tagged urban department, thank God they are safe."
"Luckily both survived!!" another commented.
Also Read: Video of woman stepping over passengers to get her window seat mid-flight goes viral