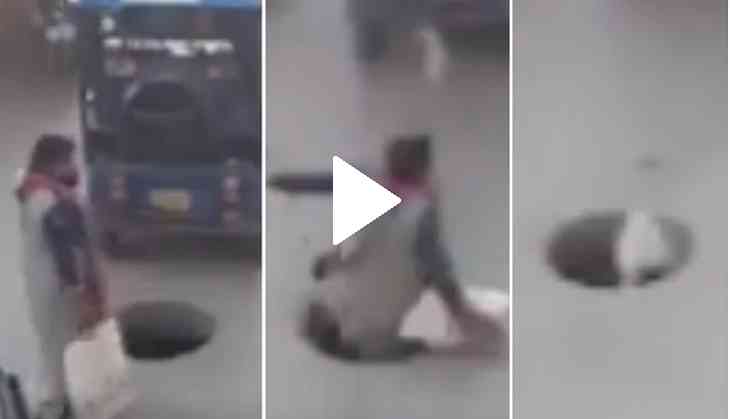 Screengrab from viral video (Pic/Twitter)
Mobile has become an important part of our life as we can't live without it for a minute. With the advancement in technology, mobile has also made our life easy as one can stay connected with their friends, family, or colleagues through it. Sometimes, the excessive use of mobile and technology can lead to serious problems. Many people have lost their lives while talking on mobile phones.
In a similar incident, a woman fell into a manhole while she was busy talking to someone on her mobile phone. The video of the incident was caught on a CCTV camera installed at a house.
Also Read: Woman miraculously survives after fainting and falling under moving train; watch video
As per the media report, the incident was reported in Bihar's capital Patna.
The clip went viral after it was shared on Twitter by a user named Utkarsh Singh.
In the now-viral clip, the woman can be seen walking while talking on her phone. She was so busy talking to someone that she couldn't see a manhole and fell into it.
As the woman fell into the manhole, locals rushed immediately to rescue her, and finally, they picked her out from the dug hole.
Watch Video:
#Woman, talking over phone, accidentally slips into dug hole in Patna, was rescued by locals#shockingvideo #ViralVideos pic.twitter.com/SU2iSG6YW5

— Utkarsh Singh (@utkarshs88) April 22, 2022

The 45-second video shows how the locals managed to rescue her from the hole. Thankfully, she has not suffered any serious injuries but her clothes became very dirty.
As of now, the video has gone viral and has received around 1000 views and several likes and comments.
What are your views on this viral video?
Also Read: Oh My God! Man falls from moving train; watch what happens next