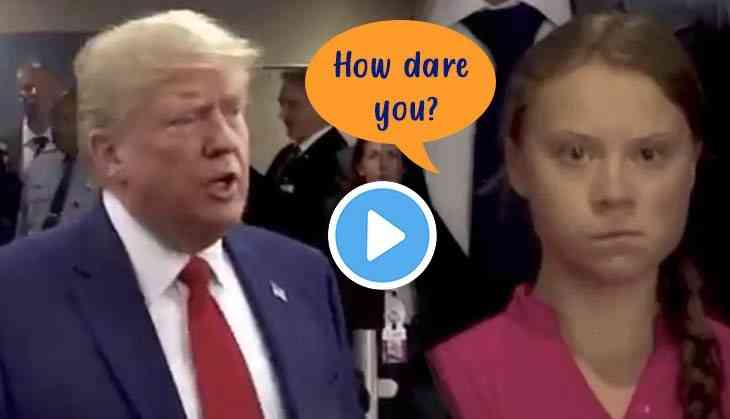 Swedish climate activist Greta Thunberg who grabbed headlines for her remarkable speech at UN summit on climate change in New York also came to light for her 'death stare' that she has given to US President Donald Trump.
A video is widely shared on the social media in which Greta is looking at POTUS Donald Trump when he crossed the paths at the United Nations on Monday. The way she was looking at Trump has created a buzz on social media and triggered new memes.
The 16-year-old activist was in New York to attend a climate change summit, she not only took the attentions for her speech but also for her gaze on Trump when he arrived to attend a meeting on religious freedom, media reported.
Her reaction was caught on camera and now become viral on the social media platform.
The video also sought the attention of Julian Castro, the Democratic presidential contender and he also shared the video on his official Twitter handle along with a caption: "I think a lot of us can relate."
See Video:
I think a lot of us can relate.

pic.twitter.com/NgOqVZ3Ym6

— Julián Castro (@JulianCastro) September 23, 2019
The reaction of Swedish climate activist triggered several memes on social media.
Check out Netizens reactions:
Bless whoever got this footage of Greta Thunberg eyeing Trump pic.twitter.com/1XEjz7hyoG

— Ang Ferraguto (@MagnaFarta) September 23, 2019
Is it just me, or does the great @GretaThunberg remind you of #astridhofferson?

When children are aware of elder failings, societies need to listen, act with purpose, or die.#Warriors #YoungLeaders #ClimateStrike pic.twitter.com/eZxNMmhvvD

— OnAMoatOfDust (@ibejac) September 24, 2019
She knows evil when she sees it. 👏💯👍

— D.K.R. Boyd (@ReflectingMan) September 23, 2019
She rocks!!!! 👏🏼👏🏼👏🏼👏🏼👏🏼 pic.twitter.com/Aef34BIv4G

— Compatriot (@Texas4Ever1836) September 23, 2019
I WISH he had turned around and engaged her. She's uniquely fearless. I can only imagine what she may have said.
🥰

— canyoncolor (@canyoncolor) September 23, 2019
Incredible job by the videographer to have the peripheral vision to pull off that shot.

— JT Street (@ThatJTStreet) September 23, 2019
Earlier in her speech at the climate summit, Thunberg had slammed the world leaders and accused them of stealing her childhood. The young activist, who kickstarted a global movement against inaction towards climate change, said, "You have stolen my dreams and my childhood with your empty words."
Also Read: Man demands Rs 100 refund for his order on Zomato; loses Rs 77,000 from his account